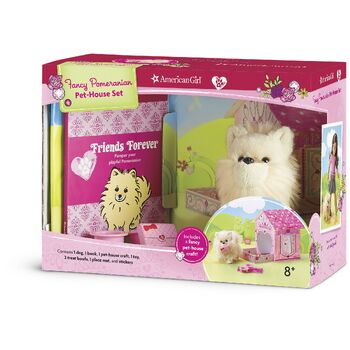 The Fancy Pomeranian Pet-House Set is a My American Girl pet released in 2014 and later retired. It was mainly available through warehouse stores at present and retailed for $29.99.
Pomeranian
Cream Pomeranian dog. Black bead eyes. Black nose. Pointed ears. Dual-colored muzzle: darker tan over bridge and lighter cream color around the rest of muzzle. Long pile cream fur over majority of body. Short curled tail. Pleather cream paw pads. American Girl Star in maroon thread on left back paw. Jointed at head and all four legs.
Purse Toy
Pink plastic rectangular clutch purse toy. Diamond style dark pink decorative "stitching" design. Dark pink heart and pink paw "clasp". Pink bow molded on the upper left front. Contains internal metal plate to allow holding near mouth.
Bowls
Two 1 1/2" diameter pink circular food bowls. 1/2" depth.
Place Mat
Card stock place mat. Gem and loop tiara and gemstone border. Black and white to encourage coloring in.
Pet House
Cardboard pet house. Heart door opening with pearl and gem border; above are tiara style loops and gems and open banner space. Right side from front has gem and pearl borders, ribbon, and opening window doors with swirls and gems. Left side from front has ribbon and loops tiara style over printed French doors and fence/balcony. Back has trellis with roses and daisies, tulips, and sunflowers. Separate roof with gem and diagonal line design. Separate fence balcony with gem and swirls and tabs to attach to front of house. Black and white to encourage coloring in. Instructions printed on roof for assembly.
Floor Mat
Pink patterned floor mat. Mat has reflecting magenta tiara style designs arranged to look like diamonds. Pink pawprint, pink heart, and silver swirl accents.
Stickers
Sticker sheet. Decorative stickers: four large round gems (dark and light pink), four heart shaped gems (pink and light pink), fourteen middle round stones (seven pale pink and seven dark pink), sixteen small round stones (seven pale pink and seven dark pink), and five pink roses (one large, one medium, and two small). Sixty letter stickers in uppercase swirly letters.
Book
48 page Friends Forever: Pamper your Playful Pomeranian. Includes tips for play, information about Pomeranians, activity pages, crafts, punch out Pomeranian stencil, certificates, passport, ribbon and posters.
See Also