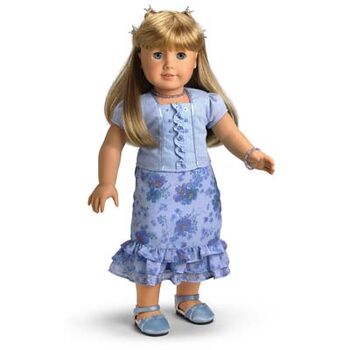 The Fancy Flowers Outfit is an American Girl of Today outfit released in 2003 and retired in 2005. Retail cost was $24.
Top
Light blue shirt in linen-like material, with sleeves in a lighter, almost sheer material. The shirt has a Velcro closure on the back, a ruffle and sequins down the front centre, and a thin blue ribbon sewn along the neckline and down each side of the front.
Skirt
Light blue floral skirt, made in two layers. Top layer is a lightweight floral material in blue, with blue and purple flowers, and has one ruffle along the bottom hem. The bottom layer (not visible when worn) is made of the same material as the shirt, with two floral ruffles sewn to it. There is a short Velcro closure on the back.
Shoes
Shiny light blue closed-toe sandals. Silver buckle on ankle strap. Black rubber soles.
Hair Clips
Four beige alligator-style hair clips.
Necklace
Choker necklace of tiny blue and white beads.
Bracelet
Doll-sized bracelet made from same beads as the necklace.
The children's outfit was available:
Top: $32
Skirt: $38
Purse: $16
Accessories: $14
Trivia
This set coordinated with the Egg Hunt Accessories. The accessory set has a doll purse that matches this outfit.