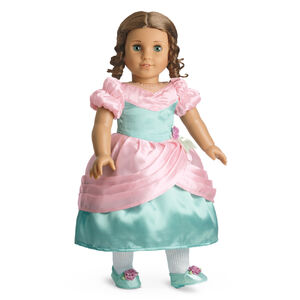 The Fancy Dress was introduced to Cécile and Marie-Grace's Collections in 2011 and retired in 2013. It is associated with the books Meet Marie-Grace and Meet Cécile. The complementary set was the Fairy Costume Accessories. Retail cost was $28.
Dress
Pink and aquamarine ruched bodice. Short double-puffed sleeves. Pink satin overlapped over aquamarine skirt. Pink rosette with pastel green ribbon "leaves" at waist.
Slippers
Aquamarine heeled slippers accented with ruffled satin rosettes.
Trivia