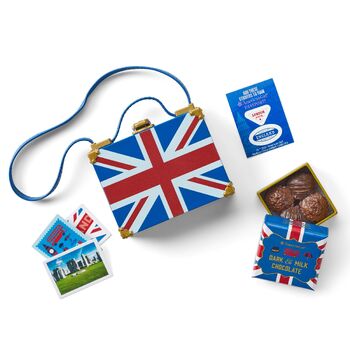 The English Souvenir Set is a Truly Me accessory released in 2020. It is part of the World Traveler Collection and frequently paired with the World Traveler in England. Retail cost is $18.
Box Purse
A glossy box purse with a shoulder strap and artwork of the Union Jack, the United Kingdom flag, on the front
Truffles
A box with Union Jack artwork that contains chocolate truffles
Postcards
A set of three English postcards
Stickers
A sheet of travel stickers—girls can follow the instructions in the images above to craft a pretend doll passport at home!
See Also