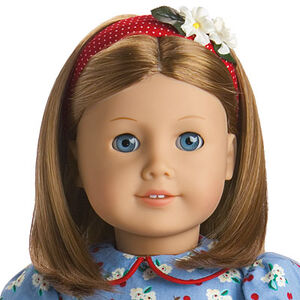 The Emily Bennett doll, best friend of Molly McIntire, was released in 2006. Emily was retired along with Molly in 2013.
Emily Doll
Skin: Light
Hair: Ginger red, shoulder length, center part
Eyes: Light Blue
Meet Outfit
Emily's meet outfit follows Molly McIntire's patriotic red-white-and-blue color scheme. The dress was a gift from her Aunt Primrose in Brave Emily.
Floral Blue Dress
Blue cotton dress with a white cherry blossom print similar to calico. It has short puffy sleeves and a Peter Pan collar trimmed with red. The bodice has a scalloped peplum, also trimmed in red, and a red sash with white dots. The skirt is gathered at the waist and knee-length.
Headband
Red headband with white dots; has fake silk cherry blossoms attached to one side.
Socks
Red ankle socks.
Shoes
Patent leather black t-straps. Closes with velcro.
Underpants
White cotton bloomer-style underpants with elastic around the legs.
Meet Accessories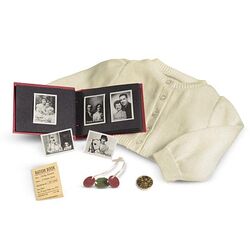 Cardigan
In the stories where Emily appears, she often wears a cardigan because she is used to being cold all the time in London. This cardigan is a thin off-white knit with a crew neck and long sleeves. It has real buttons on the front.
Scrapbook
Emily collects photographs of the British Princesses Elizabeth and Margaret Rose. The miniature pictures are stickers which can be placed in this 1940s style scrapbook. There are five photographs altogether, including some of Emily's family.
Dogtag Necklace
Three plastic faux dogtags are attached to a silk ribbon for Emily to wear as a necklace. In Brave Emily, they were given to her by her grandfather, who fought in WWI.
Rations Book
The rations book holds expired tickets and has a note written by her mother on the back.
Coin
Emily's coin is a replica George VI brass threepence coin.