"Emily" redirects here. For the doll, see Emily Bennett (doll).
Emily Bennett is the third Best Friend Character released; she is the friend of Molly McIntire. However, Molly has two best friends and Emily is not really a best friend. She is marketed as "Molly's English Friend".
In June 2013 American Girl announced that they would archive Molly's entire collection; she, Emily Bennett, and their collections were later archived in December 2013. Molly's books (including Emily's) and the movie remain available for purchase.
Personality and Facts
Emily is very quiet and shy. She takes a little while to open up to people. The war has affected her greatly (as England was more affected by World War II than America); she has seen houses destroyed and people having to take shelter in the subway during raids. Emily's father is a doctor[2] and has been drafted into the military; this creates a connection between Emily and Molly regarding their fathers' occupations. Emily was sent to stay with her Aunt Primrose in America, however, Aunt Primrose is ill with pneumonia when Emily arrives and has asked the McIntires to take Emily in for a few weeks[3] while she recovers.
Emily has been asked to act like a brave little soldier and so does not show her emotions much. She is also a little disturbed by the loudness of the McIntire children.
She admires Molly a lot, and really tries to impress her and her friends. Emily is often afraid of not fitting into American society, and desperately wants to go home to England. She loves the English Princesses, Elizabeth and Margaret Rose, which she and Molly both share in common. When she goes back to England, they apparently keep in touch.
In Brave Emily, Emily is shown to be skilled in math. She is also revealed to have an interest in gardening.
American Girl characterizes her as "brave" and "shy."
Family and Friends
Family
Mum
Dad
Grandmum
Grandy
Aunt Primrose
Friends
Book
Emily is initially only seen in Happy Birthday, Molly!; she later has a prominent role in side stories, including a major role in The Light in the Cellar.
Emily is given a much more prominent role in the film.
In the movie, Emily's father is a bus driver and the family lived in an apartment above a candy store. Emily's mother was killed when the candy store (and, it can be assumed, the block) was bombed during the war.
She is played by Tory Green.
Doll
Main article: Emily Bennett (doll)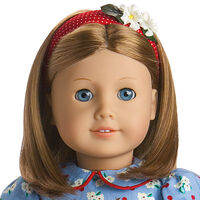 Skin: Light/pale
Hair: Dark Auburn
Eyes: Light blue
Meet Outfit
Blue dress with white flowers and red trim
Cherry-blossom headband
Red socks
Black T-strap shoes
Bloomers
Meet Accessories
Dogtags on a silk ribbon (necklace)
Ration book
Ivory-colored cardigan
Scrapbook with five pictures
English three-pence coin
Collection
Trivia
References
↑ American Girl, see discussion page.
↑ Brave Emily, pg. 12: "My dad's a doctor, too!" said Emily, happy to have found something in common with Molly besides puns and princesses.
↑ Happy Birthday, Molly!, pg. 2-3: "No, just until her aunt gets better," said Molly. "But Mom says she'd be with us for a couple of weeks at least, and that means she'll be here for my birthday."
Community content is available under
CC-BY-SA
unless otherwise noted.