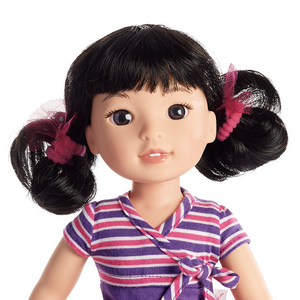 The Emerson WellieWishers doll was released in 2016 and updated in 2021.
Emerson Doll
Skin: Light
Hair: Black, upper back length, bangs

Emerson's hair comes looped into two semi-up ponytail buns.

Eyes: Brown
First Meet Outfit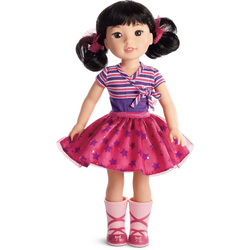 Shirt
Faux-wrap t-shirt. V-neckline. Top of shirt of pink, white, and purple striped knit designed like a ballet wrap top, with a bias bow on the left; cap sleeves of same striped fabric; bottom half is solid purple knit. Velcros up the back.
Skirt
Pink star-print pull-on skirt. Magenta tulle overlay; main fabric is magenta satin with purple hearts and silver dots. Magenta fold over elastic at waistband.
Hair Ties
Two pink ponytail holders; pink tulle bows attached.
Panties
Pink knit panties. Plain edge on legs. White elastic waistband.
Boots
Pink ballet-shoe wellies (boots.) Base color of light pink with magenta overlay of ballet shoe and ribbons winding up and around, with light pink bow image on toes. Lined with white netting for stain prevention. Slit open on the back for ease of removal/wear; no closure.
Second Meet Outfit
Leotard
Skirt
Headband
Panties
The panties are unchanged from previous.
Wellies
The wellies are unchanged from previous.
The matching children's outfit was available. The shirt and skirt retired in 2019.
Shirt: $26
Skirt: $28
Socks: $20[1]
Wellies: $26
Trivia
In prototypes, Emerson's top appeared to be two separate components which were made into a single-piece top in the final release.
Because of Emerson's hairbows, she was explicitly warned to be unsuitable for children under three years of age. With the change to a headband, there is no warning.
References
↑

The socks are part of a set and unavailable as a separate purchase.