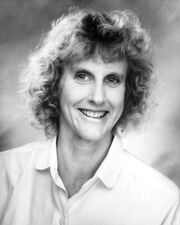 Elizabeth McDavid Jones is an author for American Girl. She has written mysteries, both Historical Character Mysteries and History Mysteries.
Biography
Mrs. Jones was born in 1958 in South Carolina. When she was a child, she moved in Raleigh, North Carolina. She graduated from East Carolina University and started a career in social work. When Elizabeth McDavid Jones earned a master's degree in literature in 1996, she changed her career to a university literature. During this period, she found time and started to write children's books. She is a mother of four children.
Authored Books
American Girl Books
Other
Further reading
Community content is available under
CC-BY-SA
unless otherwise noted.