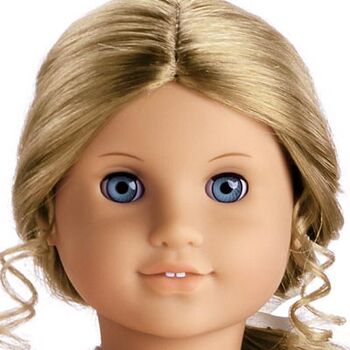 The Elizabeth Cole doll, Best Friend of Felicity Merriman, was released in 2005. Elizabeth was officially archived on March 28, 2011 with Felicity's collection.
Elizabeth Doll
Skin: Light/pale
Hair: Blond, wavy, center part, no bangs, small pincurls at sides.
Elizabeth's hair comes in a loose French Braid.
Eyes: Light Blue
Earrings: Elizabeth came with basic removable gold post diamond earrings.
Meet Outfit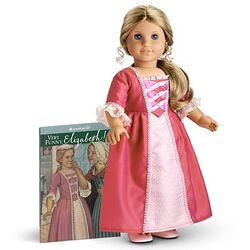 Elizabeth's meet outfit differs from other outfits. Unlike most other meet outfits which are everyday clothes, Elizabeth's fancy dress is intended for formal occasions. In Very Funny, Elizabeth, she wears it to her sister Annabelle's engagement party.
Gown
Iridescent coral pink one-piece ball dress. Off-white and pink lace and ribbon trim around collar and down sides; cream lace and ribbon at elbows; cream lace at neckline. Pink and white ribbon trim with pearls on the stomacher. Off-white and coral print brocade "underskirt". Velcros up the back.
It is similar to Felicity's Christmas Gown and Stomacher in style, but is made in one piece which is inauthentic to the time period.
Shift
Elizabeth comes with a plain white shift identical to Felicity's revised shift.
Stockings
Thick cream stockings.
Shoes
White flats with pink bows, similar to the shoes that came with Felicity's Christmas Gown.
Hair Ribbon
Cream hair ribbon.
Meet Accessories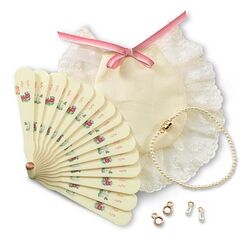 Pinner Cap
White lace trimmed pinner cap with a pink ribbon. There are no loops to pin the cap on.
Earring Posts
Diamond on gold earring posts, identical to the ones that initially come with the doll.
Earring Drops
Two pairs of earring posts: pearl drop earrings with gold loops, and a pair of pink gemstone drops with gold loops.
Necklace
Faux-pearl necklace. Gold clasp.
Fan
Off-white plastic fan. Gold central post. Floral design of gold vines, imprints, red roses and blue flowers (the flowers alternate spots) on fan blades.
Elizabeth's mini doll was released when she debuted. The doll was retired in 2014.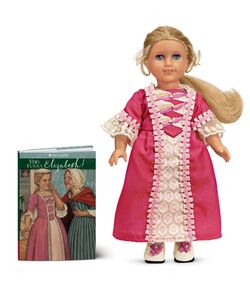 Trivia
Elizabeth was the first doll to be released with removable earrings.
In Felicity's original illustrations, Elizabeth originally had brown hair and eyes. After the made-for-TV movie Felicity: An American Girl Adventure, the doll was made into a blond with blue eyes and the original illustrations were edited so that there were no discrepancies. One theory is that the doll was changed because the actress playing her, Katie Henney, is blond; the official position from American Girl is that this was to distinguish between her and Felicity.