"Elizabeth" redirects here. For the doll, see Elizabeth Cole (doll).
Elizabeth Cole is the second released Best Friend and the best friend of Felicity Merriman.
In September 2010, American Girl announced that they would archive Felicity's entire collection; she, Elizabeth Cole, and their original collections would no longer be available for purchase and the collections were officially archived on March 28, 2011. While Felicity was rereleased for the BeForever collection it is unlikely that the Elizabeth doll or collection will ever be available again.
Personality and Facts
Elizabeth is a very petite girl; originally she is described as having dark hair like Annabelle and large brown eyes, but changes after 2005 and the film release have her described as fair-haired with blue eyes.
She and her family are originally from Lancashire, England.[2] The Coles arrived to the American colonies in the fall of 1774, just before she and Annabelle start lessons with Felicity and Miss Manderly. The Coles are slightly wealthier than the middle-class Merrimans; they have a larger home with a larger garden, for example, and she and Annabelle had a governess in England.[3]
Elizabeth is quiet, shy, smart, and careful. Her sister calls her "Bitsy" because she is such a little thing; Elizabeth hates the nickname but does not speak up against it until after meeting Felicity and becoming brave enough to poke fun at Annabelle with her. She is small for her age, especially compared to Felicity, who is tall. She is much more practical than Felicity. Elizabeth has a bright, even temperament compared to Felicity's fiery temper. She also thoughtfully plans things out, rather than jumping into fanciful dreams. Unlike Felicity, Elizabeth has a knack for sewing, as she's more patient, and she loves fancy balls and dancing; like Felicity, she also likes horses and animals. Both girls also love to read and spend time outdoors.
Elizabeth's family are Loyalists and often she finds it hard to find her place among the colonies, though she believes in some independent notions that the colonies promote as seen in Very Funny, Elizabeth. Together she and Felicity are called "the merriest girls in Virginia" by Edward Merriman.
American Girl characterizes her as "merry" and "faithful."
Family and Friends
Family
Friends
Book
Elizabeth is introduced in Felicity Learns a Lesson and continues to have a prominent role in the majority of Felicity's stories.
Elizabeth is a major character throughout the film. Her family is explicitly given a higher social class. The movie has her with blond hair and blue eyes like her actress, which was then carried over to the books as a permanent change. (See trivia below.)
Noted changes include that Felicity brings Elizabeth to see Penny at Jiggy Nye's tannery following lessons at Miss Manderly's rather than Nan and William going with her and that Elizabeth frequently repeats her father and sister's Loyalist opinions. When Elizabeth's father is jailed, she is cool to Felicity and refuses to speak to her initially, pointing out that Mr. Merriman can do nothing as he only knows Patriots; she is angry with them, including Felicity. After Mr. Cole is freed from jail by Edward Merriman instead of Grandfather (as he has already died), she becomes warm to her again.
She is played by Katie Henney.
Doll
Main article: Elizabeth Cole (doll)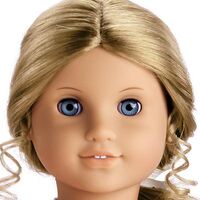 Collection
Trivia
References and Footnotes