"Elizabeth" redirects here. For the doll, see Elizabeth Cole (doll).
Elizabeth Cole was the second Best Friend released; she is the best friend of Felicity Merriman.
In September 2010, American Girl announced that they would archive Felicity's entire collection; she, Elizabeth Cole, and their original collections would no longer be available for purchase and the collections were officially archived on March 28, 2011. While Felicity was rereleased for the BeForever collection it is unlikely that the Elizabeth doll or collection will ever be available again.
Personality and Facts
Elizabeth and her family are originally from Lancashire,[2] England. The Coles arrived to the American colonies early in the series, some time before the events of Felicity Learns a Lesson. In the books, Elizabeth is shown to be slightly wealthier than Felicity, having a larger home, and a larger garden. Felicity is middle class.[3]
Elizabeth is referred to as quiet, shy, smart, and careful. Elizabeth is rather petite, which earned her the name "Bitsy" from her older sister; this was a nickname she didn't like, and at the end of Felicity Learns a Lesson, she makes this known. Elizabeth likes to poke fun at her older sister Annabelle with Felicity. She is much more practical than Felicity. She also thoughtfully plans things out, rather than jumping into fanciful dreams. Unlike Felicity, Elizabeth has a knack for sewing, as she's more patient, and loves fancy balls and dancing.
Together she and Felicity are called "the merriest girls in Virginia" by Felicity's father.
Elizabeth's family are Loyalists, and often she finds it hard to find her place among the colonies, though she believes in some independent notions that the colonies promote, as specified in Very Funny, Elizabeth.
American Girl characterizes her as "merry" and "faithful."
Family and Friends
Family
Friends
Book
Elizabeth is introduced in Felicity Learns a Lesson. She continues to have a prominent role in most of Felicity's stories.
Elizabeth is a major character throughout the film. Her family is given a higher social class; it is mentioned Elizabeth had a governess before the Coles moved to the colonies.
Prior to the film, Elizabeth was portrayed in the series as a brown-eyed brunette. Following the movie, she was illustrated with blond hair and blue eyes. (See trivia below.)
Changes (see also Movie/Book Differences):
Felicity brings Elizabeth to see Penny at Jiggy Nye's tannery following lessons at Miss Manderly's.
Elizabeth's father is bailed out of jail by Edward Merriman instead of Grandfather.
She is played by Katie Henney.
Doll
Main article: Elizabeth Cole (doll)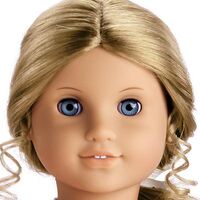 Skin: Light/pale
Hair: Blond, wavy, center part, pin curls
Eyes: Light Blue
Meet outfit
Pink Gown
Shift
Cream Stockings
White shoes with pink bows
White hair ribbon
Meet Accessories
Cream Pinner cap
Earring posts and drops
"Pearl" necklace
Fan
Collection
Trivia
In Felicity's illustrations, Elizabeth originally had brown hair and eyes. After the made-for-TV movie Felicity: An American Girl Adventure, the doll was made into a blond with blue eyes and the original illustrations, along with the text alluding to aspects of Elizabeth's appearance, were edited so there were no discrepancies. One theory is that the doll was changed because the actress who played her, Katie Henney, is blond; the official position from American Girl is that this was to distinguish between her and Felicity.
Originally, Valerie Tripp wanted to have Elizabeth wear spectacles/glasses. However, further research showed that eyeglasses were exceptionally rare in the era and it was highly unlikely for a child, even of high class, to wear a pair; thus, the trait was dropped.[4]
References and Footnotes
Community content is available under
CC-BY-SA
unless otherwise noted.