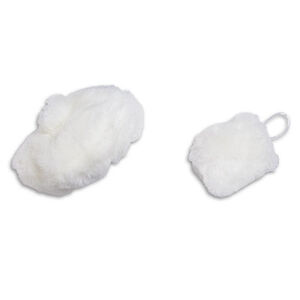 The Elegant Hat and Muff was introduced to Samantha's Collection in 1988 and retired in 2008 with Samantha's archival. It is associated with the book Changes for Samantha and completed with the Plaid Cape and Gaiters. Retail cost was $14 and later increased to $16.
Hat
White faux fur beret with white faux fur button on top.
Muff
White faux fur muff. Elastic to secure onto doll's wrist.
The matching accessories were available as a complement to the girl-sized Elegant Victorian Cape; it was phased out around 2000.
Hat: $40
Muff: $40
Gloves: $12