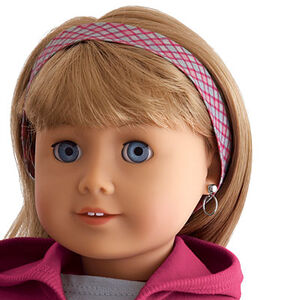 Ear Piercing is the modification of making holes in the vinyl through or near a doll's ears to allow the doll to wear post-style earrings. The price for the dolls to get their ears pierced is currently $16 (which is roughly $21 CAD).
Through American Girl
Before drilled ear piercing was available directly, the only official earrings available were stick on earrings, generally of a small gemstone style (e.g.: Gemstone Earrings). Starting in 2008, American girl began performing piercing services for any 18" doll for a fee of $14 which was later raised to $16. This expanded to include WellieWishers dolls starting in 2018. A purchase at any American Girl Place can be done at the salon if paid for at purchase or if a doll is brought in at a later time. American Girl will explicitly not perform ear piercing on dolls outside the brand.
The majority of piercings are advertised for Truly Me dolls, who can have their ears pierced at purchase; if ordered off the website, this must be requested at purchase. Otherwise the doll must be taken to a store or shipped to American Girl directly for post-purchase piercing. Create Your Own dolls may be ordered with pierced ears and will have silver star studs[1] but no additional earring sets are included.
For Historical Characters, ear piercing as an option at the time of purchase is not available for the majority of characters online, with the main exception being Courtney. It is available for available Historical Character dolls if requested or the doll is sent in for the piercing, as well at any American Girl Place.
Prior to Isabelle Palmer, Girls of the Year were not available to get ear piercing at purchase online; Saige Copeland was sold with already pierced ears and small floral earrings. Isabelle could have have ear-piercing available at purchase with the same earrings that Truly Me dolls were offered. Starting with Grace Thomas, several Girls of the Year came with optional, exclusive earring sets for the duration of her availability; these were also available for Lea, and Gabriela (who shares earrings with Tenney).
Ear piercing is not available to Bitty Baby or Bitty Twins, presumably due to to the lowest target age of eighteen months (previously three).
The doll, when pierced, comes with a set of earrings which are generally only available through piercing. The Silver Star Earrings were the first included earrings in 2008. In 2015 the Stars and Hoops Earrings replaced them, and in 2022 the Shooting Stars Earrings replaced them.
The permanent holes are drilled with a rotary power tool and are sized for American Girl earrings (about 12 gauge/3mm) which are bigger than standard human earring posts (18-20 gauge/0.812 mm) Any doll with piercings may wear any available earrings. The same drill method is used for applying hearing aids, though the post hole is placed at a lower position. A doll thus may have both hearing aids and pierced ears.
American Girl recommends that earrings be left in for two to three hours post piercing since the drilling moderately heats and stretches the vinyl; this prevents the piercing from shrinking too small to accommodate earring posts later on.
As of 2022, dolls who are purchased with pierced ears cannot be returned to American Girl for refunds.
Self-Piercing Doll Ears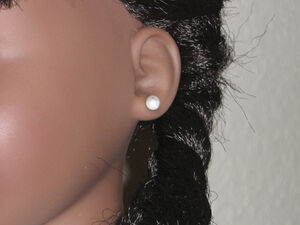 Some collectors prefer to pierce ears themselves, both to AG sized earrings and standard human size. Before ear piercing was offered through the company, this was the only way to have a doll have pierced ears. When piercing to standard-post size, the doll can then wear human sized posts of any style with a standard post to slide into the ear and the collector is not limited to buying AG-post size earrings; however, the hole will too small to accommodate any AG-post-sized earrings.
Standard post piercing is generally done with a large needle or pushpin and possibly the earring post directly (though this is more difficult). The vinyl can be warmed up with a heat source such as a blow dryer to prevent cracking and/or the needle or pushpin can be heated directly. The needle/pin is then gently pushed into the vinyl to make a hole. The hole is permanent but smaller and slightly more discreet than the piercing holes made by American Girl, and generally allow any regular small gauge standard post earrings to be placed into the piercing hole.
A person can also make earring holes the same size as American Girl sizes using a hand drill and a correctly sized bit. A thumb tack, needle, or smaller drill bit can make an initial guide hole. Then a 3/32" bit (approximately 2.5 mm, which will allow studs to slide out easier) or 5/64" (which will make a tighter fit) can be used to make holes to the correct size. One may have to ream the hole a bit with the drill bit on high speed if too snug.
Dolls with Earrings from American Girl
Addy Walker and Josefina Montoya both come with attached gold loop earrings that are not easily removed.
Ivy Ling, Elizabeth Cole, and Saige Copeland each came with pierced ears by default and can wear standard American Girl Earrings.
Courtney does not come with pierced ears by default, but has an accessory set that includes earrings and the character has her ears pierced in her stories.
Just Like You 27 came with permanent silver loops with star charms until 2008.
Earrings Sets
Since piercing was made available, the following earring packs have been available:[2]
WellieWishers
Girl of the Year Earrings Sets
References