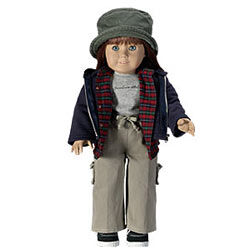 The Drawstring Cargos and Plaid Shirt (also known as the Cargo Outfit) is an American Girl of Today outfit released in 1999 and retired in 2001. Retail cost was $24.
Shirt
Plaid button down shirt. Colors in plaid are red, black, and dark green. Red buttons down front opening and at cuffs of long sleeves.
Sweatshirt
Navy blue hooded sweatshirt. Black trim at hem and cuffs of long sleeves. Kangaroo style pockets on front. Closes in the front with a silver zipper but is usually worn open to display the layered shirts underneath.
T-Shirt
Heathered grey short sleeve T shirt. Small black American Girl logo (text style) on center front.
Hat
Olive green canvas bucket hat. Topstitching thread matches fabric. This is shown with the brim rolled up in front.
Pants
Khaki cargo pants. Drawstring at waist; ties in a bow at center front. Cargo pockets with flaps at outside knees.
Sneakers
Navy blue canvas sneakers. White rubber soles. White laces and topstitching.
The girl's outfit was available:
Shirt: $25
Sweatshirt: $34
T-Shirt: $18
Pants: $34
Hat: $12