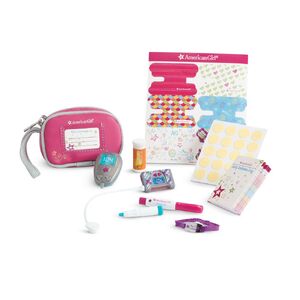 The Diabetes Care Kit is a Truly Me accessory released in 2016. Retail value is $24.
Blood Sugar Monitor
Silver plastic front with blue plastic back. Back has piece that can clip onto doll's clothing. Faux silver and pink plastic buttons on front of monitor. Flexible silver plastic piece sticks out of monitor to replicate blood test strip and is not removable. Blue sticker decal for monitor screen; reads "American Girl, 104 mg/dl." Also features time of day and battery level.
Lancing Device
White and light blue faux plastic lancing device.
Insulin Pump
Silver plastic faux insulin pump with piece on back to clip onto doll's clothing. Faux pink plastic buttons- two arrows on front and one button on side. Blue sticker to replicate monitor screen. Screen reads "104 mg/dl" and shows time of day and battery level of device. Light pink plastic faux insulin reservoir inside pump with markings to show measurement of insulin.
Infusion Set
Clear flexible plastic faux tubing, known as a cannula, with removable white plastic faux piece at end. White piece replicates the real part of an infusion set where cannula goes under the skin. White piece sticks to doll body with double-sided sticker set. Tubing is attached to insulin pump and is not removable.
Adhesive
One sheet of circular stickers to attach infusion set to doll's body. Stickers are double-sided and clear.
Insulin Pen
White and pink faux plastic pen. Stamped text on side reading "American Girl Insulin Pen." Pink knob on top moves and clicks; on a real pen this allows the user to select the number of units of insulin needed for injection. Pink cap comes off pen to reveal faux white plastic syringe. Black printed measurement gauge on side of plastic to replicate measurements on real pen syringe.
Medical Bracelet
Purple elastic with silver metal piece. Metal has purple inscription with "Type 1 Diabetic" and purple flowers.
Glucose Tablets
White plastic container. Orange and yellow sticker with drawing of oranges. Text reads "American Girl Glucose Tablets- fast-acting, orange flavor, 10 tablets."
Log Book
White notebook with pink, green, and yellow star decorations on cover and "Daily Diabetes Log" in blue script. Pages inside are all identical. Each page has a chart with the day of the week and "dose" and "reading" boxes for various meals. Meals include breakfast, lunch, dinner, and snack.
Supply Case
Pink vinyl case with sparkly silver fabric trim and wristband. Silver zipper with metal silver star zipper pull. Blue, yellow, and green star designs printed on case along with American Girl logo. Clear plastic sewn on front of case for ID card. Case can hold all pieces of the set except for the pump customizing stickers.
ID Card
White paper. "This belongs to:" in blue script. Three black lines to write personal information. Pink, green, and orange star decorations in background.
Stickers
Sheet of six stickers with designs. Stickers are designed to fit onto the insulin pump.
Community content is available under
CC-BY-SA
unless otherwise noted.