Denise Lewis Patrick is an author for American Girl.
Biography
Ms. Patrick was born and grew up in Natchitoches, Louisiana. Her father is from New Orleans.[1] She graduated from Northwestern State University of Louisiana in 1977 with a degree in Journalism. She then moved to New York City.[2]
She works as an adjunct professor of writing at Nyack College, where she teaches Fundamentals of Writing and Critical Thinking.[3]
American Girl Books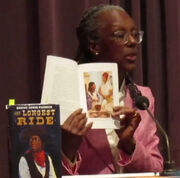 Links
References