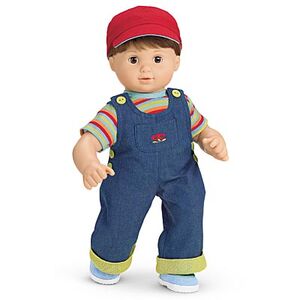 The Denim Overalls Outfit is a Bitty Twin outfit released in 2006 and the meet outfit for boy Bitty Twins from 2006 to 2008. Retail cost was $24.
Tee
Red, orange, blue, and green striped short sleeved tee. Blue collar. Velcros up the back.
Overalls
Blue denim overalls. Bitty Twin logo on front pocket. Non green functional buttons on straps and side openings. Green mesh cuffs. Velcros at sides and straps.
Training Pants
Green training pants. Blue stitching trim. Velcro on one side.
Cap
Red baseball cap. Blue lining under brim. Adjustable green strap in back.
Shoes
Aqua and blue slip on shoes. White soles and elastic.
Book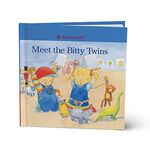 Meet the Bitty Twins: Children's book with parenting tips.
See Also