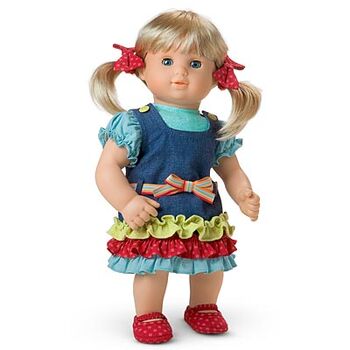 The Denim Jumper Outfit is a Bitty Twin outfit released in 2006 and the meet outfit for girl Bitty Twins from 2006 to 2008. Retail cost was $24.
Top
Aqua tee. Gathered aqua gingham sleeves. Velcros up the back.
Jumper
Denim jumper. Green mesh, red dotted, and blue plaid ruffles at skirt bottom. Non-functional green buttons at straps. Fastens with Velcro at straps. Blue plaid trim on inside of shoulder and collar areas. Ribbon around waist with orange, light blue, purple, green, pink, and red stripes. Bow tied and stitched at waist. Ribbon is strung through denim belt loops on jumper.
Training Pants
Floral print training pants. Velcro on both sides. White fabric with light blue contrast stitching. Green, red, and blue floral print.
Shoes
Red soft-soled mary jane shoes with light pink polka dot pattern. Sewn strap across top of foot with elastic.
Hair Bows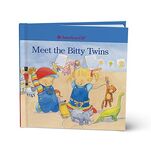 Two red dot hair bows. Tie onto hair with red scrunchies.
Book
Meet the Bitty Twins: Children's book with parenting tips.
The children's outfit was available:
See Also