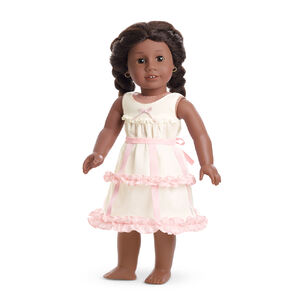 The Crinoline and Chemise was introduced to Cécile and Marie-Grace's Collections in 2011 and became part of Addy's Collection in 2014 with BeForever. Retail cost is $24.
Chemise
Eggshell high bodice sleeveless chemise. Ruffled trim at bodice front and hem. Lavender bow at front of bodice. Velcros up the back.
Crinoline
Two-tier pink hoop crinoline. Plastic "boning" to hold shape. Pink ruffle trim on upper and lower ring. Six pink grosgrain ribbons attach to both rings and a cotton bias waistband. Ties around the waist.
Trivia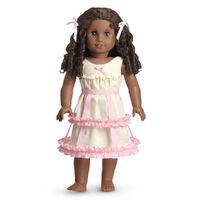 This was originally part of the collections of Marie-Grace and Cécile until they were retired.
Unlike Addy's crinoline, this set is noted as being "shown" under every outfit for Marie-Grace and Cécile.