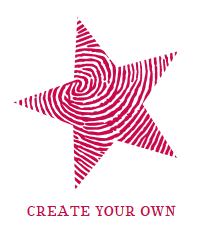 Create Your Own is a modern line released by American Girl, allowing for a variety of 18" custom dolls and designed outfits through the company directly. Unlike the other modern line of Truly Me, this line allows purchasers to design unique dolls themselves using various options available.
The line was officially released August 8th, 2017 and is available primarily online, as well as clothes designs available at the flagship stores.
Cost and Contents
For a purchase cost of $210[1] the purchaser receives:
The complete customized doll (called "One of a Kind" doll)
One line-exclusive outfit, essentially serving as a meet outfit
One line-exclusive accessory set (optional)
A self-designed Create Your Own doll-sized T-shirt, available through a packaged code
A line-exclusive keepsake storage box
This is all sent with free shipping as part of the cost. A six-month (three-issue) subscription to American Girl Magazine was originally included from launch until the end of the magazine publication in 2019.
As of 2022, Create Your Own dolls cannot be returned to American Girl for refunds.
Designing Dolls and Ordering
Creation categories are divided into:
Hair: Color, Style, and Hairstyles
Face: Skin tone, Face mold, Eye colors, and Additional components
Outfits and Accessories: Outfits, accessory sets, and glasses
Personality: Name, Pet/Favorite Animal, Backdrop/Favorite Place to visit, and Hobbies
"Personality" does not affect the actual design of the doll or what will arrive with the doll, and instead contributes to filling out ideas about the doll's background and allows naming.
In order to place an order, one must have an online account, the same as regular purchases. Designs of dolls are stored in an American Girl account, so they can be accessed and purchased at any time; designs do not have to be purchased at the time of creation. Without logging into an account, designs cannot be saved. Dolls are freely editable; they are purchased by adding to bag, but are not removed from the design listing and can instead be marked as purchased.
Each doll is individually made to order, which requires a longer processing time than a traditional order and so will not be shipped immediately; at the time of order, the estimated arrival date is stated and is about three to six weeks. If a customization option has low stock or backordered components, this will be stated on the design at creation and will cause delays in order fulfillment.
Orders were not initially available to be shipped to Canada, which was later changed. International orders must be called in.
Doll Customization Options Available
Face Molds In Use
Five of the available face molds are in use. They were originally designated by letter alone, which was later changed to add mold names. this was later changed to be a brief description of the mold with mention of eye shapes. Currently only a shape description is used, with no lettering.
Any mold may be purchased in the available skin tones of Light, Medium, and Dark. In 2019 three additional shades of Light, Medium, and Dark that had been first introduced in the Truly Me line were added.
Eye Colors
Seven eye colors have been available:
Blue[2]
Light Blue
Green
Dark brown
Light Brown
Grey
Hazel
Dolls may also be designed with two different eye colors, representing complete heterochromia.
Hair Colors and Styles
Hair can or could come in seventeen different base hairstyles (some have been removed over the years):
* None[2]
* Long Wavy
* Medium Wavy
* Bob
* Medium Curly[2]
* Natural Long
* Bob with Bangs[2]
* Medium Curly with Bangs[2]
* Natural Short
* Long Straight
* Medium Straight
* Pixie Cut
* Long Straight with Bangs[2]
* Medium Straight With Bangs[2]
* Short Curly
* Long Textured
* Medium Tight Curls
and seven initial base hair colors, with three more colors being added over the years:
Light Blonde
Blonde
Light Red[2]
Red
Brown
Dark Brown
Black
Pink (added in 2020)
Blue (added in 2021)
Purple (added in 2021)
The styles can also be tweaked with hairstyles, adding either a barrette or headband, pulling the hair into a double or single ponytail, or pulling the hair in double pigtails. Styles may remove head accessories that come with outfits. For short styles, only the barrette and headband are available; bald only had the headband; long hair may also have the option of double braids on either side.
Additional Components and Traits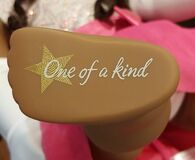 Any doll can be designed with freckles, ear piercing (which will come with silver star stud earrings but no additional earrings), have braces (which come as add-on stickers), and have hearing aids placed in one or both ears for no additional charge.
Dolls have, on the sole of the right foot, a gold thumbprint Star logo and One of a kind in white scripted lettering.
Outfits and Accessory Sets
Various outfit sets and accessory sets have been available; dolls will come in a full outfit, essentially making them a meet outfit. Outfits come with hats or head accessories; accessory sets frequently come with a purse or tote.
Outfits are also available separately for $34 and accessories for $30, but must be purchased via the Create Your Own site.
Outfits and accessories can be mixed and matched; selecting a specific outfit does not limit the purchaser to purchasing the matching accessory set. Accessory sets do not have to be selected at all, but the overall price is not discounted.
The initial launch outfits and accessories were:
The first version of Let's Create and the Let's Daydream Outfit were retired and replaced with new sets in 2019; new accessories were released to match, but older accessories were not immediately retired. The Let's Move outfit and accessories were released in 2020, and the Let's Have a Party outfit and accessories in 2021.
A second version of the Let's Celebrate Accessories was also released and replaced the older set before being retired with the outfit.
Glasses are available from the open stock of currently available glasses.
Outfits and accessories can be retired; if a doll was designed with an retired outfit and/or accessories, before purchase can be made the doll must be edited to remove or replace these components.
Redemption for Shirt and Magazine
Inside the box with the doll is a redemption code for a One of a Kind Doll Tee. The code card allows the shirt to be purchased in a separate order that is shipped for free.
Originally a six-month subscription to American Girl Magazine code was included, which was removed with the magazine's ending. If a purchaser had a magazine subscription active already, the subscription was extended by six months.
Design Studio
Some items from American Girl Place's Truly Me Signature Studio are also available online and remain exclusive on-site to locations in New York, Chicago, and Los Angeles. Custom doll-sized outfits, children's shirts, and doll carriers can be designed. The outfits are printed on white knit or cotton cloth; if purchased on site at a store they are printed on site, while online orders are shipped. The Celebration Outfit and Swimsuit were not available online before being retired.
The outfits available:
Outfits start as blank with white backgrounds.[5] Elements of the outfit are selected and designed separately, with some elements exclusive to a component (for example, denim pants designs for a tunic and leggings outfit are not able to be placed on shirts).
Themes for outfit designs are sorted into several categories which include and have included:
Sports
Sparkle
Animals
School[6]
Explore [6]
Holiday [7]
Take a Stand [6]
AG 1986 (launched as part of the 35th Anniversary celebration)
There are also some standard graphics that cross between the themes. The themes cannot be mixed and matched; changing themes while designing outfits will reset the outfit back to blank and no changes will be saved. Text typing can be added with four various font faces to choose.
Unlike dolls, a customized creation cannot be edited or changed once it is saved; to change an outfit, users must start a design from the beginning on a new item. Outfits made with retired designs can still be ordered.
Repair Information
One of a Kind Dolls are repairable through the American Girl Hospital at no higher cost than other dolls, but may take an extra week in repair depending on repair needs.
See Also
Truly Me, the non-customizable modern line that was released in 1995
References