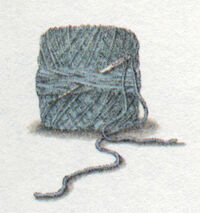 Craft Books were craft books for each Historical Character of the time. Each craft book featured instructions on making toys and crafts from each era along with historical facts about playtime, craftwork, and activities.
These were one of the four things offered in the American Girls Pastimes.
Overview
When the American Girls Pastimes were released the craft books were created; before that, the closest thing were the individual craft kits for Molly, Kirsten, and Samantha. The kits also included Paper Dolls, Cookbooks, and Theater Kits.
Craft books generally had five themes with three to four items in each theme, and a leading introduction discussing crafting and toymaking and basic crafting tips. In the back pages were patterns for some items designed to be traced over on new paper. (With modern technology, the patterns could easily be scanned and printed instead.) The crafts all warned to have adult assistance with some things as the books were marketed towards children.
Craft Kits were also released. These consisted of the book and the materials to make three items from the book, and were only available through Pleasant Company directly.
The craft books were discontinued around the release of Kit Kittredge, possibly because she was not going to receive a craft book, cookbook, or theater kit.
See Also