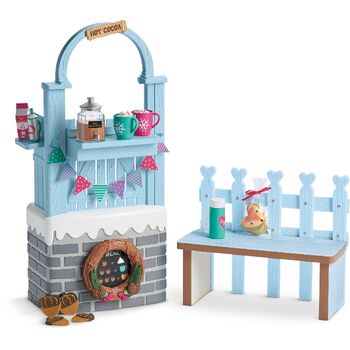 The
Cozy Up Cocoa Stand
is a
WellieWishers
accessory set released in
2017
and
retired
in
2020
. Retail cost was
$48
.
Stand
Plastic cocoa stand designed to look like it is on a faux gray stone wall with snow on it. Top of stand is faux blue wood. Shelf on top holds drinks and other items. Brown "Hot Cocoa" sign over archway. Pegs on either side of shelf to hold banner. A small shelf also extends out on the left side of the stand.
Opposite side of stand has three shelves to hold food supplies, as well as a cash drawer with two compartments to hold acorns.
Bench
Blue and brown plastic bench. Back of bench is a blue picket fence with heart designs at the top. Bench is the same design as the bench in the WellieWishers Playhouse.
Wreath Chalkboard
Brown plastic wreath with black chalkboard inside. Outside of wreath has pine cone and holly decorations molded on it. Chalkboard says "Menu" and indicates the amount of acorns each item costs. Whipped cream is one acorn, cocoa is two acorns, and a fox cookie is three acorns. Wreath attaches to stone wall on stand.
Banner
Flag banner on blue string. Banner attaches to pegs on stand. Plastic flags are polka dots and stripes in teal, light blue, purple, pink, and yellow shades.
Cocoa Mugs
Two cocoa mugs in pink and teal. Each has a white snowflake design on the side and whipped cream inside. Pink mug whipped cream has a snowman candy inside and teal mug whipped cream has two peppermint candies and some marshmallows.
Whipped Cream Can
Silver and teal whipped cream canister with handle. White whipped cream illustration on side.
Cookies
Plastic bag with red ribbon and plastic cookies inside. Two cookies are designed like foxes and the other two cookies are green acorns.
Milk
Pink and white milk carton with "W" logo on it. Carton reads "Half Gallon 2% Milk."
Cocoa Canister
Clear plastic canister with silver plastic lid. Brown "cocoa" inside. Black sign on front reads "Hot Chocolate." Faux silver spigot to pour cocoa.
Thermos
Plastic teal insulated thermos with handle. White cap comes off. Pink heart on side with "W" logo.
Acorns
Four felt acorns. Acorns are light brown at the bottom and dark brown at the top with yellow embroidered lines.
Trivia
Community content is available under
CC-BY-SA
unless otherwise noted.