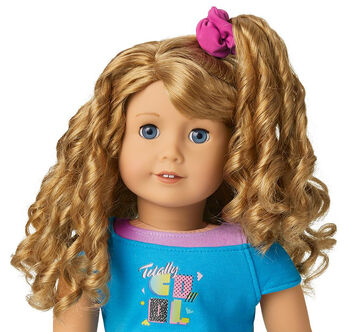 The Courtney Moore doll was released in 2020.
Courtney Doll
Skin: Light
Hair: Honey blonde, spiral curls, upper back length, sideswept bangs, right side part
Courtney's hair comes with the front section pulled up in a partial ponytail.
Meet Outfit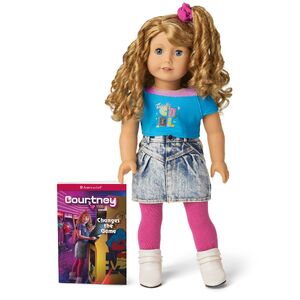 Courtney's meet outfit is intended to reflect the bright, colorful and pop culture valley girl fashions of the mid-1980s. According to the website, Courtney purchased the outfit at Valerie's, a store located in Orange Valley Mall.
Top
Blue off-the-shoulder T-shirt knit raglan cropped top. Short capped sleeves. Front has Totally Cool with "Totally" in script and "Cool" in pop art block letters in block formation. (C in semi-pixel shape with blue to yellow gradient and blue drop shadow; upper left O hot pink with blue dot overlay; lower right O with "composition book" static and pink drop shadow; L in stencil style with gradient and pink drop shadow). Scattered multicolored shapes and lines around words. Velcro closure up the back.
Tank
Lavender T-shirt knit tank. Velcro closure up the back.
Skirt
Acid-wash denim skirt. V-style yoke at front and back. Silver round non-functional button. Two belt loops at front. Functional front hip pockets. Gold top stitching around hems, pockets, loops, seams, and waistband, including false fly placket. Elastic at back of waist to ease pull on. Because of the acid-wash nature, each skirt has a unique pattering.
Tights
Magenta opaque knit tights.
Boots
White pleather ankle boots. Slouched high-to-low tops and overlay around heel and top with slight point at toes. Black textured soles.
Panties
Pale blue knit elastic band panties.
Hair Tie
Magenta gathered nylon fabric scrunchie hair tie.
Meet Accessories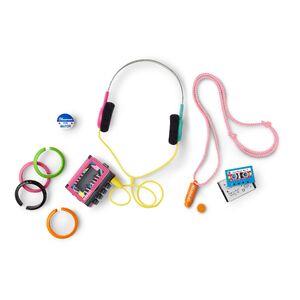 Personal Cassette Player
Personal portable cassette player. Pink body with grey accents/center. Front of hinged cassette compartment has multicolored shapes and lines on dark background and STEREO on upper right (with CASSETTE PLAYER imprinted in grey casing on left side of opening indent). Grey knob to left of buttons to attach headphones. Four non-functional buttons: two blank, play, stop. Right side has two molded switches and dial, non-functional. Clear plastic strap on back to allow doll to hold player.
The player can hold both included tape and tapes from from Courtney's Sleepover Accessory Set, but it does not play music.
Headphones
Personal headphones. Left headphone is blue, right is pink; attached to silver metal band. Black foam pads on ears. Yellow Y-style cord attached to each earphone, ending in "plug" that attaches over knob on the player.
Lip Balm Necklace
Lip balm necklace. Orange lip balm tube. Molded non-functional twist base with molded loop. Peach Lip Smacker[1] in white capital text on side. Removable lid with orange faux lip balm visible underneath. Pink lanyard cord threaded through base loop. Adjustable knots for sliding cord shorter.
Bracelets
Four plastic bangle bracelets: black, neon pink, neon orange and lime green. Molded with a diamond texture pattern. They are slit and come to a touching point to allow ease in putting on doll's wrists.
Cassette Tape
Blue molded plastic cassette tape. Label has white writing space (with one as A and the other and B) and Courtney's Mix 1, rainbow stripes, image of simulated internal cassette reel, and purple bottom stripe with "90 minute Stereo Cassette." Molded A and B on lower left on opposite sides. From the A side, the first of the four molded holes is open.
Can be used with the boombox in Courtney's Sleepover Accessory Set to play clips of the songs listed below.
Tape Case
Black and clear plastic hinged tape case. Clear side has white overlay label integrated with swirls, heart, dot, and star doodles, and following text:
Courtney's Mix 1


A
Never Give Up
- Dana Sailing

B
Rad Workout
-Honey Pie

Cassette tape can be stored inside (proper storage is with bottom edge down, though tape will fit either way).
Pin
Round pin. Top half blue, bottom Half white. Text: Maureen For Mayor; red stars flank both sides of "For."
Trivia
Courtney was the first historical character who did not receive a mini doll.
See Also
References