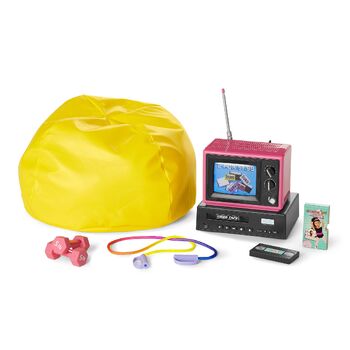 Courtney's TV and Fitness Accessories were introduced to Courtney's Collection in 2021. It is paired with Courtney's Fitness Outfit. Retail cost is $100.
TV/VCR Combination
Television and VCR combination device consisting of a CTR television on connected black VCR base.
TV has a pink outer case with black face and back (where battery compartment is located). Face has grey-silver display screen under plastic bubble screen (in initial packaging a protective removable film is on this). Right side has two black tuner dials, molded speaker lines, and silver power/volume dial. Upper (VHF) dial has numbers clockwise around from 2 to 12 and rotates to cue video clips. Lower (UHF) dial clicks and rotates but does not tune into any videos/change channel. Back top has attached silver non-extending TV antennae with pink tip; antennae lifts and rotates, and tucks and lays flat on hook notch. TV top has lines with speaker integrated.
VCR base is grey-black. Front has front slot with hinged flap; flap has Video Tape in white block letter font with outline. Leftmost molded power button with red LCD power indicator light above it. Five functional buttons with universal symbols: play, pause, rewind, stop, and eject. White clock label with 12:25 in blue. Four non functional buttons below: Clock, down, up, and Set. Back has molded back ventilation slits/connection spaces.
Uses four AA batteries (not included) in back compartment, accessible with Philips head/cross screwdriver.
VHS Tape
Black plastic VHS tape. Front label has simulation of internal VHS tape and American Girl Athletics logo on front cover (gradient yellow-pink and white font with yellow action lines on pink and black-white triangular static graphics on mint green lined background). Base has visible white tape guides. Tape fits flush into VCR slot of TV/VCR combination.
TV/VCR Videos and VHS Tape Interaction
When the upper VHF dial is turned to specific stations, clips will play. By station:
Other stations show noise static. All playing videos on TV end with mild broadcast static before TV goes dormant.
When the VHS tape is pushed into the VCR slot, a panel inside is depressed and activates the video tape mode. This "plays" the tape by starting up the athletic video programmed. The video is a stop-motion workout with athletic instructor on front (portrayed by Just Like You 82) and two other participants ( Just Like You 22 and Just Like You 76) going through a short aerobic workout of side stretches, side steps, hip twists, high kicks, and jumping jacks. The video ends with text on screen of "please rewind tape before removing from machine" and then turns off.
Five buttons at bottom interact with tape/workout video. Play starts video. Pause is a static screen with PAUSE and symbol; this pauses video mid play and resumes video where paused if play is pushed again (even if screen turns off). Rewind is a static screen with REWIND and symbol; this start video from the beginning. Stop is a blue screen with STOP 12:00AM CH3/0:00:01/SLP; this stops tape and after a few seconds the TV will play according to the last station tuned. Eject pushes tape from VCR to allow removal (and stops video if playing).
Changing the channel in the middle of play stops video and tunes to station clip. The tape does not start playing if the tape is pushed in before the TV is turned on; however, when the TV is in sleep mode pressing play or pushing the tape in and out will start the TV back up.
TV display automatically turns off after several seconds of non-use, though power indicator remains on indicating interactivity can still be started by either pressing play with tape in, turning upper dial, or ejecting and reinserting tape. Power will turn off fully after a longer span of non-use and light will turn off, but if power dial is on then turning dial or starting tape interaction will turn on TV again.
Tape Case
Cardstock VHS tape cover. Fits over VHS tape.
American Girl Athletics logo on front cover Athletic instructor on front (portrayed by Just Like You 82) shown in athletic clothes and with screenshot of workout video. Let's Get Moving! in white text on pink circle with yellow-pink gradient outline on lower left. Spine has same logo and smaller graphic of athletic instructor's face in square. Back has same logo and two screenshots of workout video. Overall mint green lined background with variant burst gradients.
Hand Weights
Two pink hand weights. Hexagon shaped ends with center rod. 5 lb in white sans serif text on ends. Pink translucent hand straps attached.
Jump Rope
Multicolored athletic jump rope. Purple handles with rainbow gradient nylon cord. Full length of rope including handles is 24 inches.
Bean Bag Chair
Yellow vinyl stuffed beanbag chair. Composed of circular base and four-points up to top. Approximately 10" diameter at circular base and 8" height.
Pamphlet
Pamphlet discussing the exercise and fitness trends of the 1980s, the rise of at-home exercise using workout video tapes with targeting towards working women and children, and the integration of fitness items into fashion such as sweatshirts, headbands, and legwarmers.
See Also