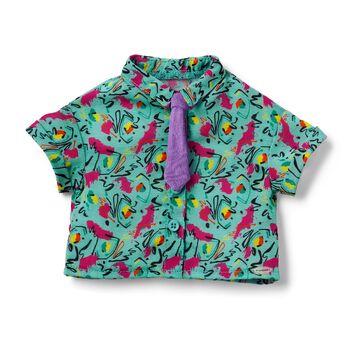 Courtney's Shirt and Tie was introduced to Courtney's Collection in 2020. Retail cost is $16.
Shirt
Multicolor print rayon collared short sleeve shirt. Print of yellow, orange, pink, and dark teal splotches with black. orange, yellow, and dark teal splatter-style squiggles on teal background. Short cuff on sleeve. Four functional teal buttons on front placket.
Tie
Purple knit neck tie. Pre-knotted and tacked tie on purple elastic band around neck. Velcro closure at back.