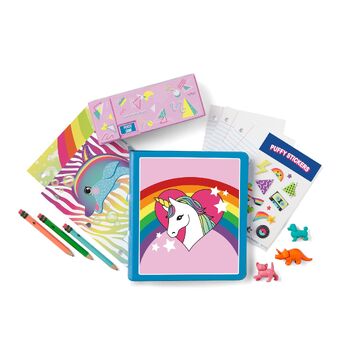 Courtney's School Supplies were introduced to Courtney's Collection in 2020. Retail cost is $30.
Binder
Teal blue heavy stock three ring binder. Cover has (on both sides) a graphic design of a white unicorn (multicolored rainbow hair and yellow horn) framed by in hot pink heart with six white scattered stars,; behind it is a six-color rainbow arc, and light pink background with white outline frame. (The heart framed unicorn, isolated, is also on the spine.) Binder rings are a plastic all in one clasp that opens and closes with top and bottom pinch mechanism.
Folders
Two three-hole interior side pocket graphic folders:
Dolphin with rainbow highlight streak and dot underside, with bubbles rainbow gradient zebra print background
Cloud with three hearts (teal, lavender, and yellow) four-stripe rainbow arc at top, and Dream on cloud in multiple colors (l. to r: lavender, pink, yellow, light green, blue)with yellow-to-pink rainbow background gradient including white unicorns, stars, and rainbow.
Both have "Name" and "Subject" sections in framed white box on front.
Paper
Twenty sheets of white three-hole composition paper (red margin line, and blue lines.) Paper is only printed on front side, leaving backs unlined.
Pencil Box
Pink plastic pencil storage box. Lid has various triangles, dots, moon and circle shapes, confetti, and various line shapes in hot pink, white, yellow, and light green. Lid has cut out section to display the case's blue label with PENCIL CASE text ("pencil" in pink, "case" in white) and clasp click hinge molded. Sides have ridges and front hole for a non-functional pencil sharpener (with mold of pencil sharper blade container in bottom). inside are four rectangular storage sections; largest section has hinged inner tray with storage sections for three pencils (pencils will only fit tip down).
Pencils
Three non-functional hex-barrel pencils in light blue, green and orange. 2 label on side. green and gold banding around pink erasers and faux wood and graphite tips.
Topper Erasers
Three molded non-functional pencil topper erasers:
Pink cat with raised paw.
Blue poodle dog.
Orange triceratops dinosaur. [1]
Each has a hole on the underside to allow mounting on ends of pencils.
Stickers
Sheet of "puffy" stickers. Blue top stripe with PUFFY STICKERS in white bubble letters with pink drop shadow. Stickers have multiple graphics:
Lightning bolt
Rainbow with face
Purple triangle with white squiggles
Pink Triangle with circle overlay
Green/white triangle with black dot overlay
Rainbow-lens sunglasses
Lime green cassette tape
Four stars: purple, pink, yellow with pink core, and purple with dark yellow core
Green heart
Shooting star
TV with colored stripes
Black record with/pink blue label
Pamphlet
Informational pamphlet discussing Courtney's school life including, grade, her teacher Mr. Garcia, her enjoyment of video games and creation of Crystal Starshooter, and lunchtime.
References
↑

This is erroneously referred to as a "rhino" in online description.