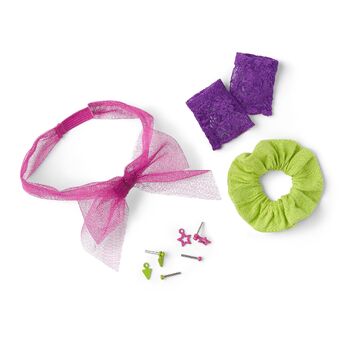 Courtney's Fashion Accessories[1] were introduced to Courtney's Collection in 2020. Retail cost is $16.
Earrings
Two pairs of round stud earrings in lime green and magenta pink. Silver posts.
Earring Dangles
Two pairs of earring dangles:
Lime green triangles
Magenta star outlines
Hair Tie
Lime green knit scrunchie hair tie.
Headband
Magenta tulle bow headband. Elastic at back center for ease.
Gloves
Pair of purple lace fingerless gloves.
Trivia
The Courtney doll does not come with ears pierced by default; they must be pierced in order to wear the earrings.
References
↑ On the back of packaging, they are called Courtney's Accessories.