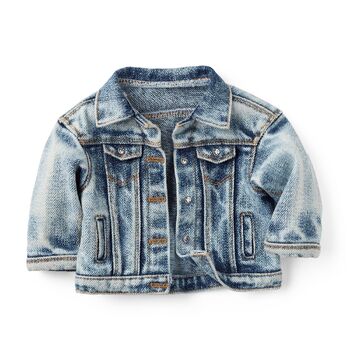 Courtney's Denim Jacket was introduced to Courtney's Collection in 2020 and retired in 2021. Retail cost was $18.
Jacket
Denim acid wash collared jean jacket. Five silver round buttons (with imprinted stars) with matching functioning buttonholes. Two decorative buttons on faux breast pocket flaps pockets. Two faux front pocket slits. Front yoke, three-panel back. Cuffed sleeves. American Girl logo tag on lower right waistband.
Because of the acid-wash nature, each jacket has a unique pattering.