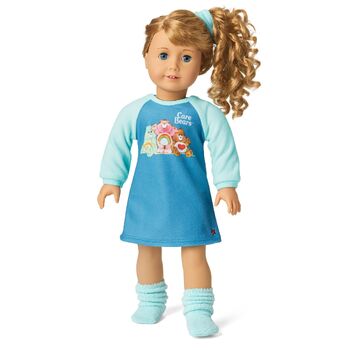 Courtney's Care Bears Pajamas were introduced to Courtney's Collection in 2020. Retail cost is $28.
Nightgown
Blue and light blue long sleeved raglan nightgown. Blue body has on front image of Care Bears logo in white and image of three Care Bears: (l to r) Wish Bear (teal with shooting star and stars), Cheer Bear (pink with rainbow), and Tenderheart Bear (brown with red heart). Light blue faux-fleece sleeves with ribbed cuffs. AG logo star embroidered in red on lower left hem. Back velcro closure.
Socks
Light blue plush knit sleep socks.
Hair Tie
Light blue faux-fleece scrunchie hair tie.
Pamphlet
Informative pamphlet about Courtney's sleepovers with Sarah Barrett at Mr. Moore's house.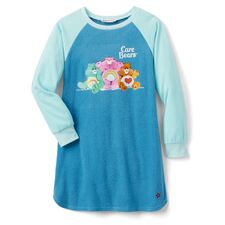 A child's nightgown inspired by the outfit was made available as the Courtney Moore's Care Bears Pajamas for a cost of $40.