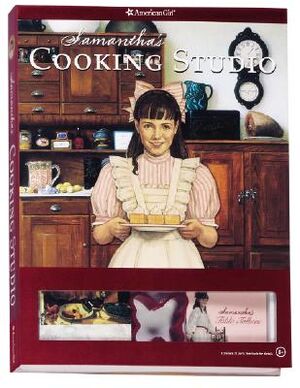 Cooking Studios were a series of cook and activity books for selected Historical Characters.
Contents
Each activity book set consisted of a wire-bound book with recipes from each era along with historical facts about food preparation and consumption, ten reusable place cards, a small cookie cutter themed to the character, and twenty "table talker" cards that were designed to prompt discussion among guests at a meal, themed around the character's stories.
Meals consist of Breakfast, Dinner, Favorite Foods, and Party Ideas for themed food parties with additional recipes on mini-recipes, party games, and crafts for the party settings and cards. Like the cookbooks, a young girl is shown making the food in chapter headings, wearing clothes themed to the character; no faces are shown. The recipes all warned to have adult assistance with some things such as stoves and knives as the books were marketed towards girls.
These were released in 2008 and phased out generally around 2011.
Cooking Studios
See Also