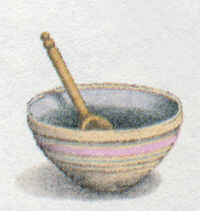 Cookbooks were a series of activity books, specifically cookbooks, for each Historical Character of the time. Each book featured recipes from each era along with historical facts about food preparation and consumption. These were one of the four things offered in the American Girls Pastimes.
American Girls Cookbook
See also American Girls Cookbook
The first Historical Character Cookbook included Kirsten Larson, Samantha Parkington, and Molly McIntire. The book, part of the Portfolios of Pastimes collection, included multiple recipes for each character and small facts about each character's era. The book was discontinued in 1994 as by then cookbooks for other Historical Characters had been released.
Individual Cookbooks
When the American Girls Pastimes were released the individual cookbooks were included; the kits also included Paper Dolls, Craft Books, and Theater Kits. Each book had a basic pattern. The first pages informed girls about the era and cooking methods of the time, including kitchen equipment and table setting. Interspersed in the text among the recipes were historical facts and images about food prep and meals. The recipes all warned to have adult assistance with some things such as stoves and knives as the books were marketed towards girls.
The cookbooks were discontinued around the release of Kit Kittredge, possibly because she was not going to receive a craft book, cookbook, or theater kit.
See Also