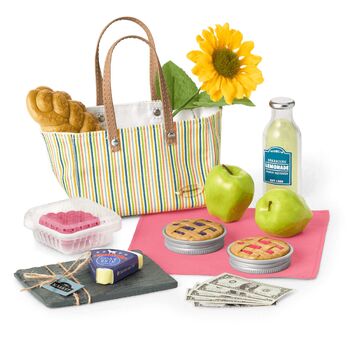 The City Market Goodies is a Truly Me accessory released and retired in 2020. Retail cost is $35.
Tote
Striped rectangular canvas carrying tote. Two faux-leather handles; attached with silver studs. Striped canvas cloth of white background with blue, light green, pink, light blue, and yellow repeating pattern in vertical stripes. Stiffened rectangular base. One long side has plastic American Girl logo tag.
Sunflower
Cloth sunflower. Yellow petals, green center, and two wired triangular leaves attached to floral wire and tape stem.
Bread Loaf
Braided bread loaf. Molded top with textured "salt" and golden color. Flat bottom.
Loaf Paper
Thick white paper wrapper. Scalloped opening. Label of pink oval with three stars at top, teal banner. Text: American Girl Market, Est[1] 1986. Comes wrapped around bread.
Cheese Board
Grey faux stone cheese board. Wrapped with twine cord in bow with attached cardstock tag. Tag of light blue background with darker black logo; inside are four green leaves, and text in white: AG Market, Est 1986.
Goat Cheese
Curved triangular wedge of goat cheese. white textured top and bottom, with light yellow rind.
Removable slide-off card stock wrapper: navy blue base. Front has a white goat flanked by four gold stars (two on each side) and standing on red banner above lighter blue circle with gold outline. Text in gold/white: Fresh Goat Brie Cheese. Fits around cheese.
Apples
Two green apples. Molded brown stems.
Notably, these are shaped like red apples, but are painted green; however, the most well know green apple cultivar, Granny Smith, are much more rounded and squat.
Berries
Clumped molded raspberry cluster in square brick. Comes inside berry container.
Berry Container
Translucent square clear plastic berry container. Front clasp with hinge. Aeration holes at lid upper rim; scallop molding on bottom. Flat base.
Pies
Two round hand pies. One dark blue "blueberry", one red "cherry". Lattice top with "filling" visible.
Each pie comes in silver jam lid pie tin with removable bottom.
Napkin
Pink hemmed square cloth napkin. 5" on each side.
Bottled Lemonade
Bottle of yellow lemonade. Clear plastic with inside containing molded yellow "lemonade." Silver cap lid. Front label sticker with curved top and blue background with white trim; text in white and yellow reads: AG Sparkling Lemonade Fresh Squeezed, Est 1986.
Dollar Bills
Five one sided paper US $1 bills.
See Also
References
Community content is available under
CC-BY-SA
unless otherwise noted.