Circle of Friends: An American Girls Musical was a live-action stage musical performed at American Girl Place theaters in the larger Flagship stores and, among the framing, touched on some of the stories of the then-released Historical Characters. It replaced the prior musical, The American Girls Revue.
The musical opened at the flagship locations on October 2001[1] and closed at the Chicago and New York Locations on September 1, 2008.[2]
Plot
The American Girl Club is setting up a surprise slumber party for Laura's birthday, under the cover of another club meeting. Becky is a little late, as the flowers she brought couldn't fit in the car, so she had to walk them over. She's excited because the party was her idea and she believes that her best friend, Laura, will be very happy with it. However, when she arrives, she finds out that Laura called another member of the club, Katie, instead of her to tell them that she'd be about a half hour late because she was babysitting her brother; also, Katie has also found out what Laura's favorite flower is. To make matters worse for Becky, Katie is put in charge of the party planning since it was her turn to lead the meeting. Katie has everyone bring out the quilt square they'd made, based on their favorite American Girl story, and tells them that they're going to give the quilt to Laura as a birthday present. Becky tries to swallow her jealousy, but she fails, especially after she finds out that Katie (and possibly Keisha, another member of the club) has been to Laura's house, while she hasn't. ("Birthday Party / Perfect")
The girls end up starting the meeting without Laura, with Hallie beginning. Her quilt patch says "Faithful Friends Forever Be." She explains that when Felicity begins lessons on how to be a proper lady, she meets two English sisters, Annabelle and Elizabeth Cole. Felicity dislikes Annabelle, but gets along great with Elizabeth. After American Colonists start to protest unfair taxation on their tea, Annabelle calls Felicity's father a traitor for supporting them. After Elizabeth fails to defend him, Felicity gets mad at her, deciding that Elizabeth's the traitor to her. ("My Father's Not a Traitor") She tells her mother that she doesn't want to go to lessons, and Mother tells her not to throw away her friendship just because Elizabeth wasn't as brave as her. Felicity goes to Elizabeth, and they decide that even though their fathers disagree, they can still be friends. ("Can't We Still Be Friends?") Hallie finishes her story by saying that friends don't have to agree on everything.
Laura arrives, and Angela begins her story of Josefina. Angela's quilt patch shows two little hearts inside one big one, and she tells the story of how after Josefina's mother died, her Tia Dolores came from Mexico City to live with them. She brought many new things with her, but Josefina's sister, Francisca is upset at Tia Dolores for changing everything. Tia Dolores is trying to teach them to read and write, but as their Mama couldn't, Francisca feels like Dolores is trying to make them forget their Mama and refuses to learn. Josefina is scared that her sister is implying she has to chose between Mama and Tia Dolores; she feels lost without her Mama and wonders if it would be disloyal to her memory to change and be happy again. Josefina tells Tia Dolores that she can't remember a poem that Mama used to sing to her. Tia Dolores shows her a book she wrote down of songs and stories that her and Mama used to love, which has the poem Josefina was thinking of written down. Josefina is happy that reading and writing could help her learn more about her Mama, and that she doesn't have to chose between her aunt and her mama. ("Is There Room in the Heart for Two?") Angela says that the lesson is that you can have more than one best friend. Becky jumps to the defense of Francisca and says that she was scared that Tia Dolores would take the place of her Mama, though it becomes clear that this stems from her jealousy of Katie.
Katie tells the story of Kirsten. Kirsten and her friends at school had been working on a quilt for fun, but then she had to stop going to school so she could help her mother, who was pregnant and couldn't complete her farm work. Kirsten is exhausted all the time, and believes that her family is going to forget her birthday and her friends might work on the quilt without her and thus forget her. Finally the baby is born and Kirsten gets to meet her little sister, Britta. Mama tells Kirsten that she appreciates all the hard work Kirsten has done, and thus she's inviting Kirsten's friends to come to a barn raising that the family is going to have on the day before Kirsten's birthday, making it a birthday party. When Kirsten's friends arrive, they reveal that the quilt is actually a gift for her, and they want her to know that they wouldn't forget her while she was away. ("Circle of Friends") Laura mentions that she relates to Kirsten, as she couldn't join in with her friends because Mama needed her, and she didn't have much money.
Keisha tells Addy's story. Addy had befriended a girl named Sarah, who was also an freed black girl who escaped from enslavement. Sarah had helped Addy initially learn how to read and write; but at school Addy was later seated next to Harriet, a smart, rich girl who had never been enslaved. Addy ends up leaving Sarah behind in order to hang out with Harriet who she saw as more confident and had everything Addy wanted if freedom. However, Harriet wasn't nice, and used to make fun of Addy behind her back. Addy finds out that Harriet wanted her around only to carry her books and becomes ashamed of how she'd ignored Sarah. She tells her teacher, Miss Dunn, about her problem. Miss Dunn tells Addy that you can't judge a true friend by the kind of clothes she wears, and that Addy will have to look inside to find a true friend. Addy apologizes to Sarah for her actions, and offers to help her study for spelling- their first word being L-O-V-E. ("Look Inside")
Natalie talks about when Samantha was living with her Aunt Cornelia and Uncle Gardner in New York City, and received a letter from Nellie saying that she'd been orphaned by a flu epidemic and they were going to move to New York City to live with their uncle Mike. After Nellie's letters stop coming, Samantha goes to the poor part of the city to find them and their uncle. She sees all the poor people and imagines how hard it must be for Nellie. A woman on the street tells Samantha that Nellie's uncle took all their money and abandoned them, and Nellie and her sisters were sent to the orphanage. Uncle Gard is upset at Samantha for going to the dangerous part of the city, but he and Aunt Cornelia agree to take Samantha to the orphanage and bring Nellie a gift basket. They meet the matron, Tusnelda Frouchy, who dislikes the O'Malley girls for being independent-minded. Samantha meets Nellie and finds out that the orphanage is planning to send Nellie out on the orphan train, which goes out west and drops off orphans to work at farms; this will separate Nellie from her sisters. Samantha helps Nellie and her sisters run away and hides them in her attic. The girls are caught by the maid, Gertrude, and brought out to Uncle Gard and Aunt Cornelia. Samantha explains what has happened and asks that the O'Malley sisters be allowed to stay with them as maids. Gard and Cornelia refuse to take them in as maids but offer to adopt them as daughters. The O'Malleys accept joyfully. ("Nellie's Shoes")
Laura starts to tell the story of Kit. During the Great Depression, Kit's family had to take in boarders to be able to pay the bills; however, her friend Ruthie's father still has a job at the bank and so the family still has enough money. When the girls go to the movies, Ruthie pays for everything, which makes Kit feel uncomfortable. ("Movie Music") While Ruthie adores the movie star and wants to be a princess like her, Kit says she wants to be like Amelia Earhart, who is a real person and not make-believe like Ruthie's heroes. She idolizes the idea of flying alone without anybody's help. While Ruthie is helping Kit with chores she says that for Christmas, instead of spending the whole day shopping downtown like their families usually do, they could only go for a few hours (because Kit doesn't have much time due to her chores). Kit reveals that she also wouldn't be able to afford dinner or tickets, and would have to wear an old dress. Ruthie offers one of her dresses and to pay for tickets and Kit says she would feel ashamed, and that she doesn't want Ruthie's help. Ruthie says that she thinks Kit is being stuck-up and prideful, and the girls fight. ("Flying Solo")
Becky tries to defend Ruthie, saying she just wanted to help. She stands up to tell her story about Molly, but Katie had completely forgotten that she was going to help her as Emily, and so the story goes untold. Frustrated, Becky tries to leave the club, saying that she doesn't feel like the members are friends. Katie says she's ruining everything, and she Becky fight. Angela brings out her book, The Care and Keeping of Friends, which advises them to listen to each other and apologize if they've done something wrong.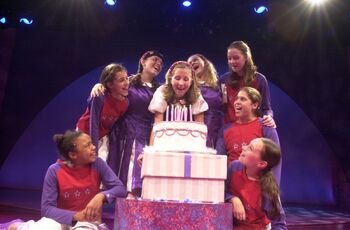 Becky admits that she is upset that Katie went to Laura's house and she didn't and that she feels left out. Laura says that she was embarrassed of her small house which is above Ms. Martin's, as Becky had a much nicer, larger house; she invited Katie because Katie also had a small house. She also adds that they can't have club meetings at her house, because Ms. Martin would be angry at all the noise they would make. Katie also admits that she might have been keeping Laura to herself, because Becky has more friends than her. Laura says that they could have a club meeting at her house if they do something quiet, like make a quilt. ("The Care and Keeping of Friends") Becky and Katie then do a dance as Molly and Emily. ("Back Together Jitterbug")
The girls then reveal the birthday party for Laura, giving her the friendship quilt. Laura is surprised and relieved that her friends cared about her, even while she wasn't there. ("Finale: Circle of Friends")
Creative Team
Book and Lyrics: Gretchen Cryer
Songwriter: Nancy Ford
Director: Kim Rubenstein
Producer: Elizabeth Richter
Songs
Characters in Musical
Club Members
Hallie (portrays Felicity and Nellie)
Angela (portrays Josefina, Harriet Davis, and Bridget O'Malley)
Katie (portrays Kirsten, Ruthie, and Emily)
Keisha (portrays Addy and Mary Stewart)
Natalie (portrays Samantha and Annabelle Cole)
Laura (portrays Kit, Sarah Moore, and Grace)
Becky (portrays Molly and Francisca Montoya)
Michelle (portrays Elizabeth and Jenny O'Malley)
Additional Adult Characters
Original Chicago Performance Cast
Molly White - Hallie / Felicity Merriman / Nellie O'Malley
Alexandra Bennefield - Josefina Montoya / Harriet Davis / Bridget O'Malley
Jacey Powers - Katie / Kirsten Larson / Ruthie Smithens
Rachel Robinson - Keisha / Addy Walker / Mary Steward
Kelli LaValle - Natalie / Samantha Parkington / Annabelle Cole
Kylie Rae Werno - Laura / Kit Kittredge / Sarah Moore / Grace
Lora Rachel Davidson - Becky / Molly McIntire / Francisca Montoya
Lindsey Stevens - Michelle / Elizabeth Cole / Jenny O'Malley
Rebecca McCauley - Martha Merriman
Hollis Resnik - Tia Dolores
Jill Shellabarger - Greta Larson
Sean Alan Krill - Anders Larson
Lori Holton Nash - Miss Dunn
Roberta Duchak - Cornelia Edwards
Peter Robel - Gardner Edwards / Street Vendor
Marlene Flood - Tusnelda Frouchy
Tina Callari - Woman on Street
Gretchen Cryer - Horse and Cart Woman
Central Series Books Adapted into the Musical
While the plot is framed by the modern characters holding a club meeting, it references the following Historical Character Central Series books:
Items Associated with the Circle of Friends Musical
References
Community content is available under
CC-BY-SA
unless otherwise noted.