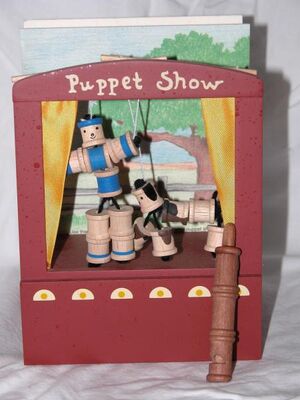 Church Fair Fun
(also known as
Addy's Church Fair Fun
) was introduced to
Addy's Collection
in
1994
and
retired
in
2002
. It is associated with the book
Addy Saves the Day
. Retail cost was
$22
.
Stage
Red puppet stage. Top detachable half. Yellow cloth curtains attached. "Puppet Show" printed on top in ivory paint; painted spotlights below stage. Three pegs behind the top to rest puppets. Bottom half has groove for holding frame; three grooves for backdrops. Hollow bottom can be turned over for storage.
Backdrops
Two cardboard backdrops:
Drawn background: tree, fence, meadow, low hills and sky. Text at bottom says "Use the blank sides to create more scenes for your puppet show." Other side is blank.
Soldier Puppet
Wooden spool soldier puppet. Blue paint added to resemble uniform, black painted face. Strung together with black yarn; the center spool has a drilled hole to allow stringing. White cords are attached to head and hands and strung to wooden rod.
Dog Puppet
Wooden spool dog puppet. Black and brown spots painted on body, black felt ears, black eyes and nose and pink tongue. Strung together with black yarn, with length for tail. White cords attached to head and near tail and strung to wooden rod.
Whistle
Wooden spool functional slide whistle. Designed to appear to be of three spools, with natural stain. Small hole at end of slide.
Community content is available under
CC-BY-SA
unless otherwise noted.