The Christmas Gown and Stomacher (also called Felicity's Holiday Gown) was introduced to Felicity's Collection in 1991 and retired in 2010 with Felicity's archival. It is associated with the book Felicity's Surprise. Retail cost was $22 and was later increased to $32.
Gown
Blue taffeta gown. Blue satin trim pleated down front and gathered at sleeves; lace on the sleeves and bodice. Snaps to the stomachers. Slits in sides of skirt.
Petticoat
Blue taffeta petticoat. Velcros at sides and is worn under the main gown.
Lace Stomacher
Lace trimmed stomacher. Snaps to bodice of gown.
Ribboned Stomacher
Pink ribboned stomacher with one pearl in the center of each one (it consists of three pink ribbons on the stomacher). Snaps to bodice of gown.
Choker
Blue choker tied into a ribbon with attached pearl drop. Clasps in back.
Hair Ribbon
Blue satin hair ribbon. This was originally not included with the set; the ribbon was added in 1993.
Shoes
White slip on shoes with attached blue bows. Originally, these were not sold with the dress.
Pinner Cap
White pinner cap with lace trim and blue bow tacked at back. Has two thread loops at front and back to pin onto the hair.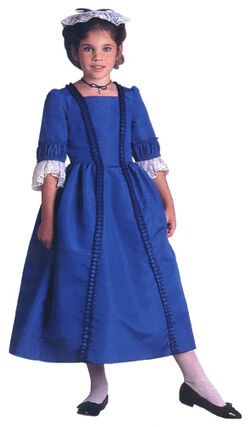 The matching outfit was available as the Palace Blue Gown (a one-piece gown) for $98; it was phased out around 2000.
Variations
The stomachers and gowns originally had silver snaps in two styles: square (c. 1991 - c. 1996) and round (1996 - 2010). Gowns with square snaps will only work with stomachers with square snaps, while dresses with round ones will work with both square and round snaps. In 2010 the snaps were replaced with velcro.
Trivia
Two bobby pins were originally included in the set, but were later removed.
A special edition mini doll of Felicity wearing the Christmas Gown and Stomacher and an abridged copy of Felicity's Surprise was released in 2011 to celebrate American Girl's 25th anniversary.
Community content is available under
CC-BY-SA
unless otherwise noted.