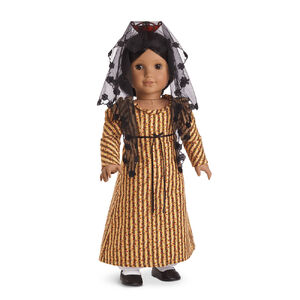 The Christmas Dress and Mantilla (also called Josefina's Holiday Outfit) was introduced to Josefina's Collection in 1997 and retired in 2016. It is associated with the book Josefina's Surprise. Retail cost was $22 and was later increased to $32.
Dress
Yellow and brown striped dress with Regency-style sleeves. Black ribbon sash and bow at waist. Ruffled collar. Fabric has red dots and yellow swirls. Velcros up the back.
Underwear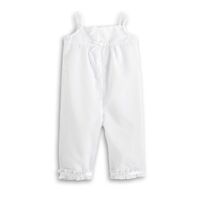 One-piece full body combination underwear. Empire waist bodice. Two bows on front of bodice and three nonfunctional buttons down front. Ruffles and white ribbon trim at bottom of pantalettes. Velcro up the back.
Stockings
White knee-high ribbed stockings.
Shoes
Matte black flats.
Mantilla and Comb
Black lace mantilla. Flowers embroidered around edge and scattered in mantilla lace. Tortoiseshell comb sewn to mantilla to hold mantilla into hair.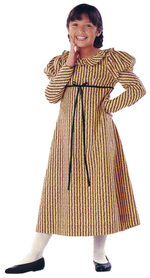 The matching outfit was available as the Very Best Dress for $80; it was phased out around 2000.
Trivia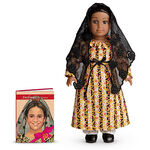 Josefina's Doll has a matching outfit.
A special edition mini doll of Josefina wearing the Christmas Dress and Mantilla and an abridged copy of Josefina's Surprise was released in 2011 to celebrate American Girl's 25th anniversary.
See Also