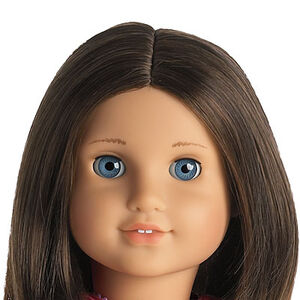 The Chrissa Maxwell doll was released in 2009 and was available for only one year before retirement. She was considered the Girl of the Year for 2009.
Skin: Light
Hair: Dark Brown, shoulder length, center part, no bangs
Eyes: Light Blue
Meet Outfit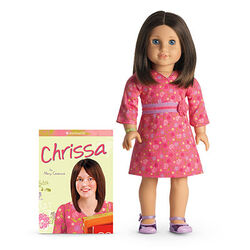 Chrissa's dress does not appear to have specific significance to Chrissa's stories; it does show a creative side.
Dress
Pink faux-wrap dress and belt with rosette.
Shoes
Purple flats with sparkly purple insets and elastic ribbon ankle straps.
Underwear
Pale pink underwear with purple flower on hip and pink elastic waistband.
Bracelet
Green ribbon bracelet with floral print on it. In the film, Chrissa has a bracelet with flowery beads on it that was given to her by her best friend in Iowa, Amanda. It is possible that the ribbon bracelet is the doll version of the friendship bracelet.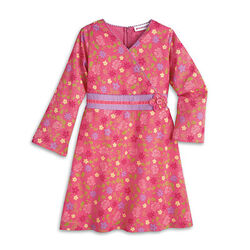 The Floral Dress for girls was available at a cost of $54.
Trivia
Chrissa's meet outfit was sold as a Purchase with Purchase in 2011 under the name Floral Wrap Dress; buying $50 of items at an American Girl Place allowed purchase for $16.
See Also