"Chrissa" redirects here. For the doll, see Chrissa Maxwell (doll). For the book, see Chrissa. For the movie, see Chrissa Stands Strong (movie).

Chrissa Maxwell is the seventh Girl of the Year, released by the American Girl Doll company in 2009.
Character
Chrissa is a 10 year old girl who lives with her father, mother, brother Tyler (who is about a year older than Chrissa), and grandmother Nana. She has moved from Iowa to Edgewater, Minnesota to live with Nana following the death of her maternal grandfather and is starting in a new school. Her father Paul is a potter who makes dishware under Maxwell Pottery and her mother Meg is a doctor. Tyler is somewhat nerdy and specializes his knowledge in planetary bodies and outer space. Her family lives in an upper-class neighborhood. Her grandmother Nana raises mini-llamas and spins their hair into yarn; she and Chrissa's grandfather used to raise full llamas but with his illness and later death she has gone to mini-llamas.
Chrissa is a very creative girl and knows how to knit as well as sew. Her favorite sports are swimming and diving; she is a strong, skilled swimmer. She likes to help her dad with pottery. 
Chrissa is left-handed.
Her grandmother's pets, the mini-llamas named Cosmos and Checkers, give birth to a baby named Starburst which is Chrissa's pet. She also has a Siamese cat named Keefer.
Chrissa finds it hard to make friends at her new school, but Chrissa tries her best to be friendly. She later makes friends with Gwen Thompson and Sonali Matthews, but her friendship with both of them had a rough start. Her enemies are Tara James and Jadyn Johnson, but they learned to get along in the stories.
Books
Movie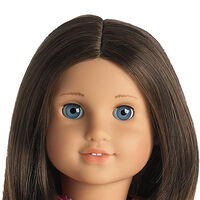 Skin: Light
Hair: Brown
Eyes: Light Blue
Companion Dolls
Chrissa was the only Girl of the Year to come with two companions. The two characters, Sonali Matthews and Gwen Thompson, are prominent characters both in the books and movie.
Gwen Thompson is a lonely girl in her class and Chrissa is the first to befriend her. Gwen lived at the homeless shelter and felt that her situation made it too embarrassing for her to make any friends.
Sonali Matthews is partially South Asian/Indian through her mother's parents. She was part of the Queen Bees with Tara and Jadyn, but stopped being their friend after their cruel pranks and became Chrissa's friend.
Both characters were given dolls, the Gwen doll and the the Sonali doll--the latter debuted a new face mold. The companions were available from Chrissa's launch on January 1st and subsequently retired with her; each came with a copy of the book Friends. However, they were not Girls of the Year in their own right and are not listed on the official archive with Chrissa.
Collection
See: Chrissa's Collection
Trivia
Chrissa was the second Girl of the Year to have a stated middle name after Jess McConnell and later followed by Joss Kendrick.
Chrissa was the second Girl of the Year to have the Josefina Mold after Marisol Luna.
Chrissa was the first Girl of the Year to have a movie about her.
With her retirement, Chrissa was the first to have items re-released under generic names as part of the Just Like You collection.
Chrissa was the first Girl of the Year since Kailey Hopkins to not have a whole world collection like previous Girls of the Year.
Edgewater, Minnesota is a fictional town; there is a water park named "Edgewater Hotel & Waterpark" in Duluth.
See also
References