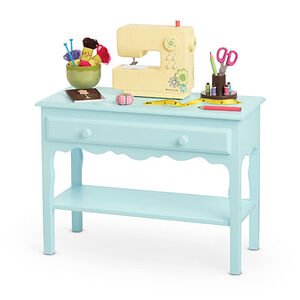 Chrissa's Craft Studio was part of Chrissa's Collection and, like her, was retired at the end of 2009. The retail cost was $78.
Table
Blue wooden table with pull out drawer. In Chrissa Stands Strong, this table is shown briefly. Chrissa, Gwen, and Sonali are making their Solidarity Scarves on top of it.
Sewing Machine
Pretend sewing machine. Requires Two AAA batteries to make presser foot move.
Bowl
Green bowl. According to the item description, it was made by Chrissa's father, a potter.
Skeins of Yarn
Three skeins of yarn in purple, orange, and brown.
Needles
Aqua knitting needles.
Tape Measure
6" tape measure. The inches marked are real inches, and not to scale with the dolls.
Spools
Five pretend spools of thread.
Pin Cushion
Pink pin cushion. Seen briefly in Chrissa's movie when the friends are making Solidarity Scarves.
Sketch Book
Brown sketch book.
Caddy
Brown caddy.
Scissors
Pretend scissors with pink handles.
Pencils
Two pencils.
Community content is available under
CC-BY-SA
unless otherwise noted.