Jurassic World: Dominion Dominates Fandom Wikis - The Loop
Play Sound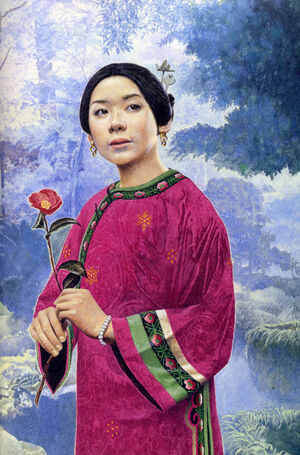 Chou Spring Pearl was one of the first five Girls of Many Lands, representing China during the Second Opium War in 1857. Spring Pearl was released in 2002 along with Isabel Campion, Cécile Revel, Minuk, and Neela Sen. She is the primary character of Spring Pearl: The Last Flower.
Personality and Facts
Chou Spring Pearl (Chinese: 周 春珠 Zhou Chūn Zhū)[1] lives in Canton, China. She is practical and quick to think of solutions to her problems. However, being raised in the slums instead of in high society like the Sung family, she sees no reason to act fragile like a girl was expected to in her era when she can take care of herself. This causes anxiety and awkwardness between herself and the Sung family, and she is mocked by both the children and the servants. Because Spring Pearl refuses to pretend to be helpless and stays true to herself, she inspires the Sung family, who had before been consumed by the act of keeping up appearances, to do the same. She has a strong sense of morality, tying into this, and stands against drug smugglers and looters when the nobles are scared away.
She is always conscious that she is a charity case, having been taken in by Master Sung after her parents worked themselves to their death. Because of this, she feels as if she is below the servants, even when she is constantly reminded that this is not the case, and even after the Sungs accept her into their family, she constantly fears being thrown out onto the street. Spring Pearl has a deep respect for her dead parents, and because they became renowned artists and she has no talent in either of their fields, she does not see where she fits in. Despite her terrible self-esteem and her even worse sewing (when Mistress Sung instructs her to make shoes out of fabric scraps, the servants who wear them begin to limp), Spring Pearl has many impressive talents. One thing that comes naturally to her is helping people; early in the book, she relates that she did errands and favors for every one of her old neighbors simply because they needed the help. She is also well known in the Rats' Nest, the slum in which she lived as a child, for her skills at haggling and gambling. Finally, she is a dedicated gardener, and brings the Sung family's withering garden to life even though society frowns upon the daughter of a scholar digging in the dirt.
Spring Pearl speaks fluent English; being taught by Mr. Fortescue, an interned Englishman who lived near her while her parents were alive and before the foreigners were driven out of the country because of the First Opium War. Spring Pearl is also knowledgeable about the world and is one of few girls who can read and write in her time.
Book
Spring Pearl: The Last Flower by Laurence Yep
The Spring Pearl doll was intended for display only. Her black hair came in a bun with netting (to maintain style) and she had brown eyes. The components of her outfit were:
Pink knee-length brocade silk camellia-print tunic with elaborate ribbon work: white ribbon, pink embroidery, black with pink flowers, and green ribbon trim and black frog closure
Green silk trouser pants with embroidered camellia and floral patterns, white floral ribbon, black ribbon, and pink camellia-print brocade trim
Green slippers with floral embroidery, white platform soles and black trim
Gold dangling ring earrings
Dragonfly hair pin
Leaf and pearl hair pin
Two jade bead bracelets
Green silk embroidered drawstring purse
Trivia
Though the Girls of Many Lands facemolds are all quite similar, Spring Pearl and Minuk are the only two from the first release to share a facemold.
References
↑

Her name is in Eastern format, with last name first.