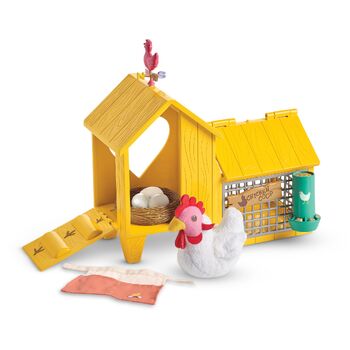 The Chicken and Coop is a WellieWishers accessory set released in 2018. It is associated with the story Emerson and Princess Peep. Retail cost is $42.
Coop
Yellow plastic chicken coop with molded detailing to replicate wood. Drop down ramp with brown molded chicken footprints. Ramp leads to raised area with one side that is half open. Another wall of this section has a heart cutout as a window. Caged side of coop has hinged roof that opens. Gray plastic caging on three open walls of caged section.
Sign
Light brown faux wood plastic sign. Sign has dark brown chicken silhouette and reads "Chicken Coop." Sign can attach to side of cage.
Feeder
Teal plastic feeder. Back has hook that can attach to the side of the cage. Feeder has white chicken graphic printed on it and brown faux food attached.
Weathervane
Plastic weathervane. Attaches to top of raised section of coop. Pink chicken on top that can turn. Has four direction letters in brown, light pink, purple, and yellow.
Chicken
White fuzzy chicken with pink fabric head. Yellow fabric beak. Attached red fabric around face and head with stitched detailing. Black and white embroidered eyes.
Eggs
Three white eggs that are attached together.
Nest
Brown molded plastic nest. Nest can hold eggs.
Apron
Ivory and dark peach apron. Back of apron is ivory and has velcro waistband. Two pockets are made out of peach fabric. Left pocket has printed graphic with a yellow chick and two white eggs.
Community content is available under
CC-BY-SA
unless otherwise noted.