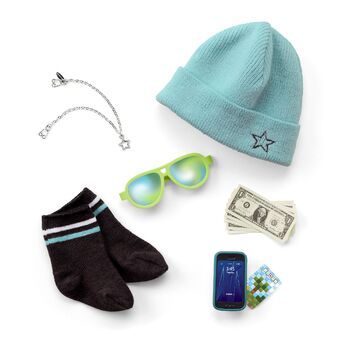 The Chic and Stylish Accessories are a Truly Me Accessory set released in 2021. They are part of the Street Chic Collection.
They are paired with the unique meet outfits Cool Camo Outfit, Skater Dress Outfit, and Girly Graffiti Outfit. Retail cost is $30.
Beanie
Light aqua knit beanie. American Girl logo star embroidered on front left cuff in black.
Sunglasses
Lime green sunglasses. Iridescent mirrored lenses.
Necklace
Silver American Girl logo star pendant on silver chain. Heart clasp at back.
Socks
Black slim knit calf socks. White and light blue stripes at upper cuff.
Smartphone
Black molded plastic smartphone. Clear front panel. Back opens to insert screens.
Smartphone Screens
Two dual-sided laminated cardstock smartphone screens. Screens overall simulate the Apple iOS 7 systems.
First pair:

Blue line-streaked floral lock screen: 3:45 Tuesday, signal strength and battery at top and Unlock > at bottom
Grey incoming call screen: signal strength, 3:45 and battery at top; Dad and call length of 3:20; Mute, Keypad, and Speaker logos; call in process symbol in red
Second Pair:

Weather screen: Blue background. Displaying Current weather of 77° and partially sunny with five day forecast for Sunday through Thursday
Game screen similar to Minecraft; shows a block tree in mid-ground and wand in foreground with five symbols at top.
Phone Case
Dark teal plastic phone case. Molded handle.
Dollars
Five $1 US bills.