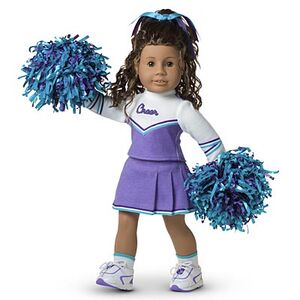 The Cheerleader Outfit IV was a Just Like You outfit released in 2006 and retired in 2008. Retail cost was $26.
Top
Purple and white long sleeved turtleneck. White half has "Cheer" in purple embroidered script. Aqua, dark purple, and white stripes between color sections and on lower sleeves. Velcros up the back.
Skirt
Purple pleated skirt with aqua, dark purple, and white stripes at hem.
Bloomers
Socks
White ankle socks with blue and purple aqua trim.
Sneakers
White sneakers. Purple trim.
Ponytail Holder
Purple ponytail holder with aqua ribbons.
Pompons
Aqua, dark purple, and purple pompons. White loops for doll to hold pompons.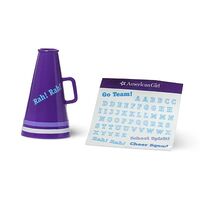 Megaphone
Dark purple megaphone with handle. Purple and white strops near opening.
Stickers
Sheet of letter and cheer stickers to personalize megaphone.
Book
Go Team!: Book of cheers and chants.
See Also