The Casual and Cool Outfit[1] is the current meet outfit for the Truly Me Boy Dolls. It was released in 2020, replaced the Truly Me Boy's Outfit, and is the male complement to the Sparkle and Shine Outfit.
Outfit
Currently this outfit is not available as a separate purchase.
Shirt
Grey raglan-sleeved long sleeved polo. Blue sleeves, collar, and placket. Two white buttons under collar. Blue AG in lined capital letters on top left chest.
Pants
Dark blue denim pants. Tacked cuffs.
Shoes
Blue slip on plastic shoes. White soles.
Underwear
Grey boxer briefs.
Book
Copy of the book Friends: Making Them and Keeping Them.
Accessories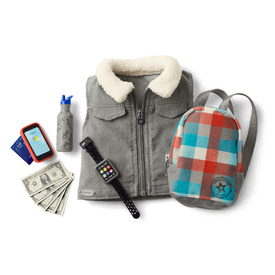 The accessories are available for purchase separately as the Casual and Cool Accessories for $30. They can also be bundled with the doll for a discounted price.
Vest
Grey cargo vest. Two faux pocket flaps on either side of chest. White faux fur collar, and a dark grey zipper.
Backpack
Plaid checkered backpack. Plaid of red, blue, white, gray, and tartan. Grey functional zipper runs along the top. Two grey straps. American Girl logo star in circle with "American Girl Est.[2] 1986" in lower right corner.
Watch
Faux smart watch. Black plastic watch band. Grey plastic "screen" with black app screen decal: decal shows the following:
signal, battery strength, time of 1:45
chat app, music app, American Girl app
weather app, time/clock app, favorites (heart) app
Call app, home screen swipes, home logo
Water Bottle
Grey plastic shark-printed water bottle. Blue bottle cap.
Smartphone
Black plastic smartphone. Clear plastic screen, the other to hold the paper screens in place.
Smartphone Screens
Two double sided app screens.
Phone Case
Orange rubber phone case with band for holding on back.
Dollars
Five US$ bills.
References