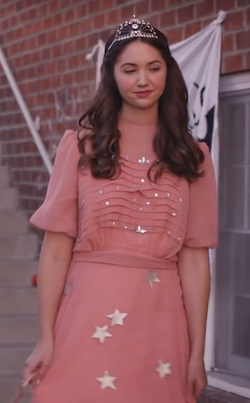 Carolyn Larkin is the older sister of Maryellen Larkin.
Facts
Family
Personality
Carolyn is Maryellen's second oldest sister. She's interested in records, movie stars, and dancing the jitterbug. She likes Rock and Roll and has introduced many songs to Maryellen and her friends. She plays the piano. She's more understanding of Maryellen's lively streak in comparison to Joan. However, she is also honest with her sisters. She doesn't mind sharing a room with Maryellen and is more easy-going. She and Maryellen are closer in age, so Maryellen has more in common with her. Throughout the story, Maryellen has watched her sister "grow up", attending school 'sock hops' and talking to boys on the phone, and sometimes feels left out.
In the Books
Carolyn Larkin was portrayed by Ashton Smiley.
References