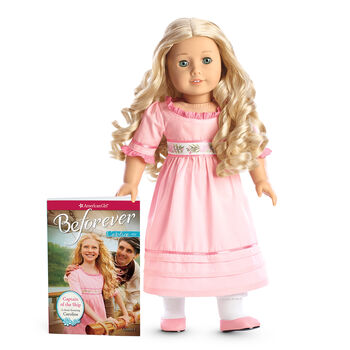 The Caroline Abbott doll was released in 2012 and was not updated in any major way for the BeForever release. Caroline was retired in 2015.
Caroline Doll
Skin: Light
Hair: Blonde, curly, center part
Eyes: Aquamarine
Brows: Feathered
Meet Outfit
Dress
Lightweight pink cotton empire waist calf length dress. Darker pink ruffle trim on sleeves and collar. Accenting dark pink ribbons on sleeve above ruffle and above two "growth tucks" on skirt. Embroidered attached ribbon waistband with design of varigated pink roses and green leaves and stems. Velcros up the back.
Pantalettes
Lower calf-length white pantalettes. Eyelet lace trim on hem. Elastic waist.
Stockings
White knee-length knit socks.
Shoes
Pink ballet style flats. Black soles without heel.
Meet Accessories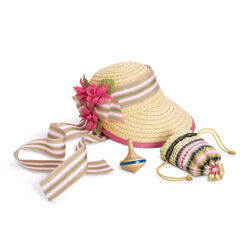 Bonnet
Soft straw spiral-woven bonnet. Pink grosgrain ribbon on edge. Pink, white and green striped taffeta ribbon around bonnet brim edge; two lengths attached at sides and diagonal cut at ends to tie into bow. Decorative bow on right side surrounded by three pink flowers with attached green leaves.
Purse
Multicolored drawstring reticule. Diamond silk pattern cloth includes light green (concentrated at top), pink (dark and light), navy, green, and beige and is tightly gathered at bottom with white thread. Navy ribbon for drawstring; drawstring of gold cord knotted and fringed at ends. Has "Caroline Abbott 1812" in gold faux-embroidery on front ribbon.
Top
Wooden spinning top. Blue line painted around the midsection.
There were no updates or changes for Caroline's outfit or accessories. She came with Captain of the Ship.
With the launch of BeForever, an outfit inspired by Caroline's Meet Outfit was made available:
Lacy Ribbon Top: $32
Silver Sparkle Jacket: $48
Cuffed Jeggings: $38
Trivia
References
Community content is available under
CC-BY-SA
unless otherwise noted.