"Caroline" redirects here. For the doll, see Caroline Abbott (doll).

Caroline Abbott is the thirteenth Historical Character, representing the War of 1812. Caroline was released in 2012 and was part of the BeForever collection.
In May 2015, American Girl announced they would archive Caroline's entire collection; she and her collection were later archived in December 2015. Caroline's books and mini doll remain available for purchase in a limited fashion.
Personality and Facts
Caroline was born in a log cabin[3] and is the only child in her family. She has lived in Sackets Harbor her whole life, and her family runs a shipyard near the shores of Lake Ontario.
Caroline enjoys outdoor activities, especially sailing on Lake Ontario and ice skating during the winter. She dreams of being captain of her own ship one day. She also likes fishing. Caroline likes embroidery and loves to sew. When Caroline is worried, upset, or anxious, she likes to keep her hands busy, usually with her embroidery. She also likes the cows on her cousin's farm.
Caroline is described as sweet and clever. Her friends call her a true hero because she's not afraid to put her courage to the test.
Caroline is considered adventurous, tomboyish, brave, heroic, and independent. She is prone to making rash decisions, oftentimes bordering between brave and foolish. Caroline is very stubborn, sensitive, and easily offended. She can be quite outspoken. Her father considers her to be flighty. Caroline struggles with changes and also struggles to make her own decisions. Later in the series, she learns to use her heart and mind to make decisions.
Caroline is jealous when her cousin Lydia becomes friends with Rhonda, a girl staying with the Abbotts, and seems to believe that they're leaving her out with whatever they do. When she has a worker in Abbott's Shipyard make Rhonda ice skates, she believes Rhonda will love ice skating as much as she does, but is disappointed and frustrated when she finds Rhonda doesn't. Caroline is younger than both Lydia and Rhonda, but still wants to be included with what they do.
Her least favorite chore is baking, which she isn't very good at.
She has a way of reading the expressions of others without them saying anything or telling her how they're feeling.
She is proud of her father and will go to great lengths to please him and often boasts about him. Caroline loves her home town of Sackets Harbor, and doesn't like leaving. American Girl describes her as daring and self-reliant.
Family and Friends
Family
Friends and Other Characters
Books
Main article: Caroline Abbott (doll)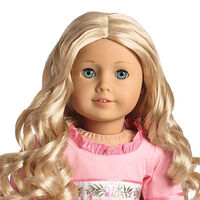 Skin: Light
Hair: Blonde, curly, center part
Eyes: Aquamarine
Collection
Trivia
Caroline's release coincided with the 200th anniversary of the War of 1812.
Caroline is the first and currently the only character from the BeForever line to be retired.
With the archival of her collection in 2015, Caroline's availability was among the shortest of any Historical character at approximately three years; the only other characters with such short availability were Cécile Rey and Marie-Grace Gardner.
See also
References