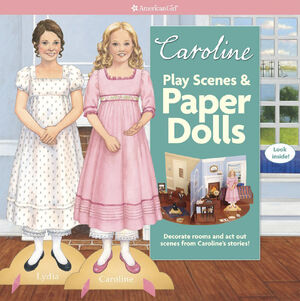 Caroline's Play Scenes and Paper Dolls is a set of paper dolls focusing on Caroline Abbott. It was released in 2012.
Dolls
Caroline comes in a shift, stays, and pantaloons.
Lydia Livingston comes in a shift, stays, and pantaloons.
Storage
Blue nautical themed trunk and drawers
Outfits and Accessories Represented
Caroline
Cloak
Cool Cotton Dress
Navy Work Dress
Lavender Pinner Dress (w/Apron)
Green Work Dress (w/Apron)
Mob style cap
Mittens
Elbow Gloves
Lydia
Lydia's Turquoise Dress
Lydia's Summer Dress
Accessories
Fancy Purse
Candle in low holder
Tin Cup
Food Basket
Flower Basket
Jar w/ Flowers
Bread loaves
Inkwell and quill
Model boat
Doll
Plate
Slate and slate pencil
Boat painting
Teapot and Teacup
Sewing/Fashion book
Sewing Basket
Lantern
Embroidery of Lake Ontario
Furniture
Two Windows for Parlor
Rug
Candle shelf
Work Cabinet
Writing Desk
Curtain Drape
Candle in Taller Holder
Basket of Vegetables
Vanity w/ Mirror
Fire for fireplace
Fireplace tools
Bedwarmer
Couch
Fire Screen
End table with glass and book
Fancy Chair
Simple Chair
Globe on Stand
Fancy Chair at Table
Background Scenes
References
Community content is available under
CC-BY-SA
unless otherwise noted.