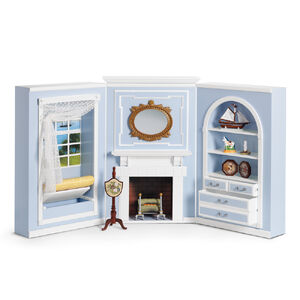 Caroline's Parlor was introduced to Caroline's Collection in 2012 and retired in 2015. Retail cost was $300.
Window Seat Wall
Pale blue backdrop with white trim. Window seat opens up for storage and has yellow cushion with flower patterned fabric on top. Background is reversible; panel in back of display opens up and card can be changed to show either a sunny day or a stormy day. White lace curtain hangs from hooks at top of window frame.
Center Wall
Pale blue backdrop with white trim. Unlike other walls, it has a white piece of molding on top. White trim over top of fireplace and white mantle. Fireplace has red brick design inside with black shading to replicate marks from flames.
Shelf Wall
Pale blue backdrop with white trim. Rounded display shelves with two drawers below. Drawers are decorated to look like four separate drawers.
Fireplace Logs
Four plastic logs on andiron (faux metal support). Logs are painted light green and have additional black shading where flames "burnt" them. Logs have ivory paint where the wood was cut. Andiron is gray and gold plastic with two support legs in front. This design is historically accurate; two taller legs would typically be placed at the front of an andiron to keep logs from rolling into the room. Legs have a simple decorative design.
Fireplace uses three AAA batteries and has button on bottom to turn flame lighting on and off. Four lights- two orange, two yellow- flicker like flames. Light is visible from both front and back of piece.
Figurine
Decorative plastic horse figurine. Ivory horse with red spots and blue mane and tail. Yellow bridle, brown saddle, and orange and gold blanket below saddle. Green hedge below horse with pink and yellow flowers. Yellow base with orange design.
Ship Model
Brown plastic boat model on gray plastic base. Boat has dark plastic accents and white painted stripes. Four ivory cloth sails are attached to the masts with string. Plastic American flag flies from top mast. Flag has 15 stars, which is historically accurate for 1812. While ship can be displayed from either side, seams on cloth sails are unfinished on the back of the model.
Candlestick
Plastic candle molded with fake wax and a burnt end of a wick. Not removable from gold metal base. Metal base has loop to fit on doll's finger so candlestick can be held.
Valentines
Two wooden octagonal pieces. Two pieces connect with a hinge and fold to close. Inside are two clear plastic windows to replicate glass. Below windows are are paper pictures with faux decorative displays. One side shows shells and rocks in a four-part pattern. The other side has shells and rocks in an eight-sided star pattern with a rose shape in the middle.
Fireplace Screen
Wooden fireplace screen with embroidered rose pattern on front. Screen height is adjustable.
Reversible Frame
Gold plastic frame with decorative leaf pattern around edges. Ship painting on one side, mirror on other side. The top of the frame has a hook that swivels to work with either side of the frame. Hook fits into indent in center wall above the fireplace.
Community content is available under
CC-BY-SA
unless otherwise noted.