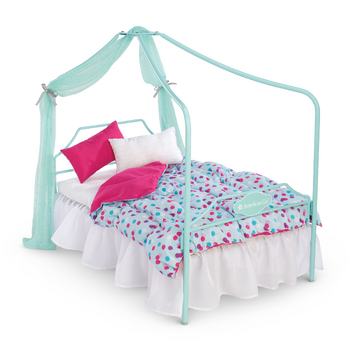 The Canopy Bed and Bedding Set was a Truly Me accessory released in 2016 and retired in 2018. Retail cost was $80.
Bed Frame
Metal mint-colored bed frame. Two parts to frame: bed frame and canopy and support. Canopy rises up to four posts that converge at two center discs. Head of bed has dual bars separated (Upper bent up into curved shape, lower straight bar.) Foot of bed has same bars, closer, with oblong shape connecting. "American Girl" logo at center of shape in white.
Mattress
Reversible white mattress. Attached sheer dust ruffle on long sides and one short side. Display side of mattress has repeating American Girl in faint grey brush script; other is white without print. .
Canopy Fabric
Mint tulle dotted swiss fabric; fabric is woven with diamond pattern. Two grey ribbons attached to tie to upper head end bars of the canopy framework.
Bedspread
Reversible polyester quilted bedspread. Display side is of light blue background color with polka dot print of scattered turquoise, purple, white and berry colored dots. Reverse side displays a solid berry color.
Pillows
Two matching rectangular pillows. Berry solid on one side; reverse is white with repeating American Girl in faint grey brush script.
Trivia
Community content is available under
CC-BY-SA
unless otherwise noted.