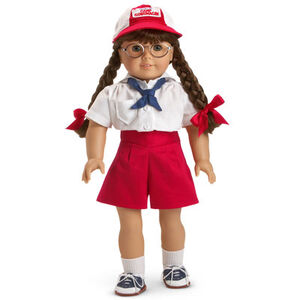 The Camp Gowonagin Uniform (also known as Molly's Camp Outfit) was introduced to Molly's Collection in 1987 and retired in 2011. It is associated with the book Molly Saves the Day. Retail cost was $22 and later increased to $28. The uniform is completed with the Saddle Shoes.
Shirt
White collared shirt with short sleeves and functional buttons. The shirt should be tucked inside the shorts.
Shorts
Red above the knee shorts. Pull on with elastic at the back.
Tie
Blue neck tie.
Cap
Red and white cap with camp logo on front crown.
Trivia